In his effort to wake Nigeria's sleeping economy up and reposition it among the economic giants in the world, President Bola Tinubu, seems to be gaining attention from world leaders.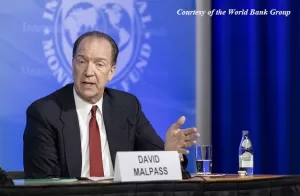 Applauding President Bola Tinubu's economic activities that is aimed at reviving Nigeria's economy from poverty, the former World Bank president, David Malpass expressed delight.
Malpass Appreciates Tinubu For Removing Subsidy
He thanked Tinubu for taking bullish actions to end the fuel subsidy regime and scrapping of the dual exchange rates.
Read Also: Breaking: Tinubu Appoints New Service Chiefs
Malpass, believes that corruption will reduce in Nigeria as a result of the steps taken by the government to improve the economy.
He described the fuel subsidy regime and dual exchange rate as harmful to the Nigerian economy.
The former World Bank president made this remarks on Wednesday via a tweet while sharing a Financial Times story on steps taken by Tinubu's government.
Malpass said "Glad to see @officialABAT taking concrete steps to scrap Nigeria's harmful government subsidies and multiple exchange rates".
According to him "these are important steps toward currency stability, lower inflation, and reduced corruption in Africa's most populous country."
Tinubu Is Keeping His Promise
Mr Tinubu assumed office on May 29, declaring an immediate end to fuel subsidy.
"Subsidy is gone," Mr Tinubu said in his inaugural speech, a development that saw fuel price skyrocket from ₦195 to ₦540.
After assuming office, Tinubu, ordered the Central Bank of Nigeria (CBN), to float the Naira, allowing banks to determine exchange rates.
Tinubu also suspended CBN governor Godwin Emefiele and EFCC chairman Abdulrasheed Bawa, and ordered investigations into their respective tenures.
Read Also:President Tinubu Jets Out To Paris For Global Financial Summit
Also, Mr Tinubu signed a student loan law with stringent conditions, allowing eligible students in higher institutions access loans for their education.
His actions so far are receiving applause from analysts. They say they are welcome developments.
However, Nigerians are suffering the immediate adverse effects of fuel subsidy removal without any palliatives put in place.
You may need to watch this video to know more about President Tinubu's plans for Nigerians