Currency dealers say the exchange rate of the dollar to the Naira in Lagos and Abuja respectively remains the same.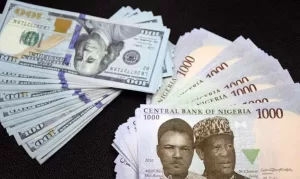 As the Central Bank of Nigeria (CBN) has continued to introduce policy after policy to position the Naira at an advantageous point for foreign exchange.
Bureau De Change (BDC) operators have thanked the CBN for bringing them back and trying to integrate them into the formal foreign exchange system.
Just last week, the CBN, unveiled the re-entry of the BDC's into the country's foreign exchange market with a series of operational changes.
Have You Read: Dollar To Naira Exchange Rate On The Black Market
However, it was gathered that the Nigerian local currency, today, exchanged at ₦860 to a dollar buying and ₦850 selling.
The Euro to Naira traded at ₦950 buy and ₦920 sell respectively in the black market.
While the Pound to Naira exchange rate is ₦1175 buy, you can sell a pound for ₦1155 at the black market rate.
Dollar to Naira Rate for Past 7 Days
| | | |
| --- | --- | --- |
| Date | Buy | Sell |
| August 20, 2023 | 870 | 835 |
| August 19, 2023 | 855 | 845 |
| August 18, 2023 | 870 | 830 |
| August 17, 2023 | 870 | 825 |
| August 16, 2023 | 1190 | 1130 |
| August 15, 2023 | 870 | 825 |
| August 14, 2023 | 890 | 860 |