The newly sworn-in Minister of the Federal Capital Territory (FCT), Nyesom Wike, has resumed office.
Wike, the immediate-past Governor of Rivers State, resumed on Monday with the minister of state, Mariya Mahmud.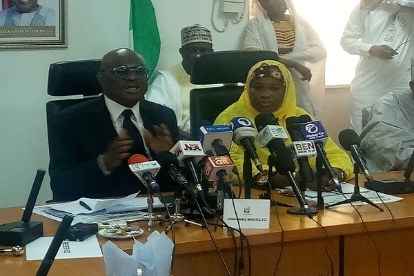 The duo arrived at FCTA at about 1:20 pm after the swearing-in ceremony at the presidential villa.
The former Rivers State governor was accompanied by a large crowd into the FCTA.
While briefing reporters, Wike vowed to return the FCT to its original masterplan.
He said land allottees who have been given Certificates of Occupancy but failed to develop would also lose their lands to give way to those ready to build.
The Masterplan
"All those people who are distorting the Masterplan of Abuja, too bad. If you know you have built where you are not supposed to build, it will go down.
"Be you a Minister of anywhere, be you an ambassador, if you know you have developed where you were not supposed to develop, your house must go down.
"Those who have taken over the green areas to build, sorry, our parks must come back, the green areas must come back. If you hate green, you must hate yourself."
I Will Step On Toes
While responding to questions as to whether his threatened demolition will be used as a form of vendetta against his enemies, Wike said: "Say the truth, you don't like those who step on toes. I will step on toes.
"The big and mighty, I will step on them. If you are doing what is wrong, I will do what I am supposed to do".
You May Like: Video: Drama As Newly Sworn-in Minister Kneels Before President Tinubu
He noted that his task was to return the FCT to what it used to be, rather than as a witch-hunt against anyone.
See everyone in President Tinubu's cabinet as minister in the video below.