When Umaru Musa Yar'Adua died on May 5, 2010, the country lost a president, but many saw it coming because the president had been showing signs of ill health for a while. Former president Obasanjo has now opened new cans of worms on the matter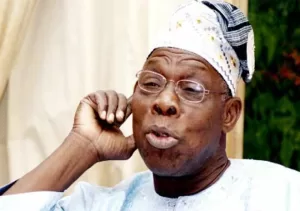 Ex President Olusegun Obasanjo has denied allegations that he deliberately anointed a medically unfit candidate, late Umaru Musa Yar'adua, as his successor in 2007.
Yar'adua, who was elected president in 2007, died on May 5, 2010, after a protracted illness.
Speaking during an interview published with The Cable on Monday, Obasanjo said the late president was certified fit by medical experts prior to his endorsement as the anointed candidate.
How Yar'Adua Became President
According to him, contrary to insinuations, a committee he set up to choose his successors recommended the former Katsina State governor.
He said: "I set up a committee headed by Dr Olusegun Agagu, of blessed memory, to search for a successor. They considered many names and did an extensive assessment on all of them.
"They made their recommendation. Umaru was top on the list. Their biggest argument in his favour was that he had integrity and would not steal. The issues concerning his health were raised, and I gave his medical reports to an expert for an opinion.
See Also: Lagos: How Yahoo Boy Tortured Apprentices For Failing To Meet Target
"Umaru's name was redacted so that the expert would not know who it was and why I was seeking his opinion.
"After assessing the reports, he said the patient appeared to have done a kidney transplant, and if that was the case, there was nothing to worry about and he would be as healthy as any other person.
"That was it. All insinuations that I knew he was going to die and that was why I supported him to be president were false. This is the true story I have told you."
State Of The Nation
Speaking on the state of the nation, the octogenarian said that although he was aware that former President Muhammadu Buhari didn't understand economics, he never thought he would be a reckless spender.
"Tinubu said the other day that it was unacceptable that he would spend 90% of revenue to service debts. I wasn't spending 90% when I went worldwide to get debt relief. Do you think that anybody would give you debt relief today? Buhari was spending money recklessly. I know Buhari didn't understand economics.
"I put that in my book. But that he could also be so reckless, I didn't know. Who would you go to today and ask for a favour?," he queried.