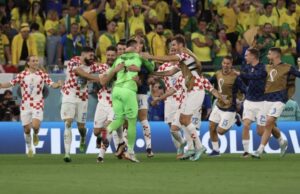 The Croatian national team has kicked five-time World Cup champion and favorites Brazil, out of the 2022 World Cup.
After 90 minutes of resistance from both sides, the Croatian team won in extra time with a 4-2 penalty victory.
The now semi-finalists had Bruno Petkovic stroking in a 116th- minute equalizer.
The dancing Brazilians had danced their way into the quarter-finals and had put up a good attack against Croatia's defense but it was not enough for the penalties.
READ ALSO: APC Is Plotting To Incite Violence, Put Them On Watch List — Atiku Campaign Alerts INEC
The game also saw Neymar equal an official mark by football legend, Pele, by scoring his 77th International goal.
However, the football forward player would not get to pass the legend's mark until the next world cup.
The Croatian team might just be on their way to the finals like in 2018 when they lost 4-2 to France.