Maruf Abdullahi, better known by his stage name "Trinity guy," was sentenced to be held in the Agodi correctional facility on Tuesday by a magistrate court in Iyaganku, Ibadan, for allegedly sexually abusing a 10-year-old girl.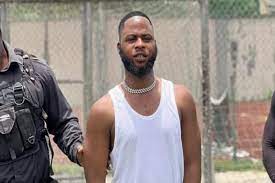 The court opened on Tuesday and it was presided by a magistrate, Mrs. P. O. Adetuyibi.
Interestingly, the magistrate was magnanimous in her decision that will determine the direction the matter will go.
She ruled that the child's parents, Abdullahi, 31, Isiaka Ahmed, 40, and his wife Rofiat Ahmed, 29, should remain on detention in Agodi.
The matter was postponed to August 3, 2023 by Adetuyibi.
According to reports, Abdullahi and the victim's parents were accused of conspiring and of sexually abusing or exploiting the victim.
The prosecution's attorney, Inspector Oluwakemi Arowosaye, informed the court that Abdullahi, Ahmed, and his wife Rofiat reportedly planned to engage in sexual assault together.
On December 17, 2022, Arowosaye said "Trinity" is believed to have sexually molested and exploited a 10-year-old girl".
Furthermore, the police said the incident happened in the Kuola neighbourhood of Ibadan.
Have You Read: Prank: Trinity Guy Speaks As Police Call For His Arrest (Video)
According to the police, the offence violated Section 35 (1) of the 2006 Oyo State Child Rights Law.
The law enforcement agency said it sought penalty in accordance with Section 35 (2).
Additionally, according to her, it is against section 516 of the Criminal Code Laws of Oyo State 2000.
Watch How Davido Gets Dragged By His American Baby Mama