Have you heard of Ponzi Schemes before? 
Indeed, Nigerians are beginning to see the effects of the removal of subsidy in their daily lives. From transportation to the cost of getting their usual supplies.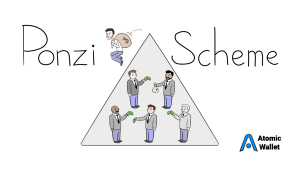 Ponzi Schemes
Everyone is thinking about how to increase income to be able to survive in this time.
"But while the sons of man gather, the evil one also came with them."
You may not know, but one of the set of people thinking of how to increase income is a scammer, the one you call 'Yahoo boy' in Nigeria.
Really, the economic situation of the most populous black nation on earth is nothing to write home about.
There is a huge debt profile of over ₦77 trillion accrued from borrowing that is hanging on the neck of the nation.
High inflation, soaring price of food in addition to the recently removed fuel subsidy among other factors are the reasons so many Nigerians are at a crossroads on how to survive.
Unfortunately, there is frustration in the air. It is laced with the urgency to make quick money to service bills, and this pushes people into Ponzi schemes.
Ponzi Scheme
Ponzi schemes have been described as a are fraudulent investing scam which generates returns for earlier investors with money taken from later investors.
It is a form of fraud that lures investors and pays profits to earlier investors with funds from more recent investors.
When things are hard, people want to make quick cash and their sense of judgement is often suppressed by this desire.
Ponzi schemes require a constant flow of new money to survive.
But when it becomes hard to recruit new investors, or when large numbers of existing investors cash out, these schemes tend to collapse.
For Nigerians, greed and get rich syndrome has been put forward as reason why people majorly participate in Ponzi schemes.
The poor economic situation in Nigeria has given rise to a very high tendency of Nigerians engaging in gamble. Many will be drawn away seeing it as an avenue to make quick money.
So, a lot of people would be throwing away their hard earned income when they invest in these schemes.
Unfortunately, they will not know until it is too late.
What To Do 
You see, this is not a time to believe just anything you see or hear online.
They will make offers, coming with click and get rich schemes and the likes.
They will come in different names. Be vigilant.
Bear in mind that anytime you are asked to make some money commitments for a quick return in percentages that are mind blowing, that could be it.
See The Right Way To Handle Finance This Season
It is not a time to test the water, but to make good investments.
Recall that in 2016, more than three million Nigerians lost 18 billion naira. That was when MMM crashed, according to Nigeria's Securities and Exchange Commission (SEC).
These and many became the fate of Nigerians who took a deep dive into the deceptive financial scheme.