Brazil superstar Neymar has been "tied up" by Peruvian shamans that hope to "neutralise" the threat he poses in a 2026 World Cup qualifier.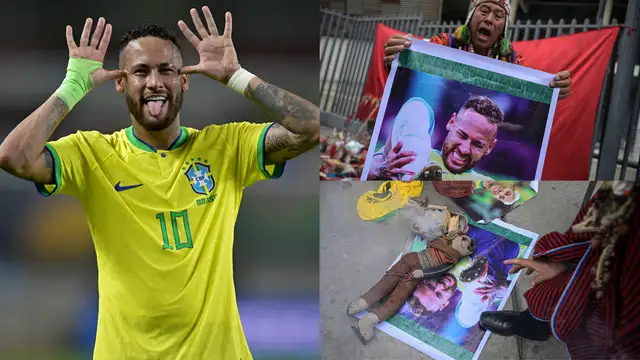 The 31-year-old forward – who has overtaken Pele to become his country's all-time leading goalscorer – is due to be back in international action on Tuesday.
Hosts Peru are aware that they are going to need all the help they can get in order to claim a positive result against the five-time World Cup winners.
With that in mind, a group of traditional healers from the jungle, mountains and coastal regions of Peru – known as Tayta Inti (Father Sun) – have offered their assistance.
An effigy of Neymar has been tied up, while a colourful altar with swords, amulets, flags and photos of players from both teams featured in a ritual that took place outside Peru's national stadium.
Shaman Felix Rondan told reporters: "We have neutralised Neymar by tying his feet.
"We tied him up so that he is not in good shape and doesn't run and play well."
Read more: Gabriel Magalhaes Trains With Brazil After An Injury Scare.
Shaman Walter Alarcon added that the ritual was intended to cloud Neymar's mind so that he cannot "achieve what he is looking for, which are goals".
Digital World: Nigerians Performance On Digital Platform