Do you know that you can make good money from the comfort of your home through the internet?
Do you also know that you can make money through blogging, content creation, podcasting on the internet?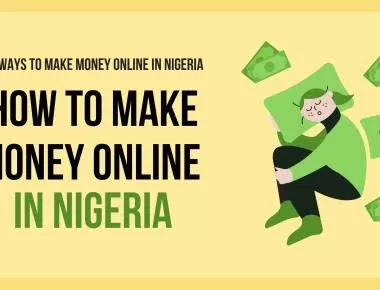 There are many fantastic ways to make money in Nigeria without having to take your CV, 'up and down'.
Some of the very popular avenues are affiliate marketing, blogging, content creation, podcasting and e-commerce.
Other viable options include freelancing, trading, using savings and investment apps, social media management and selling digital products.
All you need is a reliable internet access and an internet-enabled device (a phone, a tablet or a computer).
How Do You Go About Making Money Online In Nigeria?
In this article, we'll explore 11 of the best ways to make money online in Nigeria and discuss what makes them so viable.
Let's jump in!
1. Affiliate Marketing
Affiliate marketing might seem like one big Ponzi scheme, but it's actually legit — big time.
In fact, it's one of the top ways to make money online in Nigeria, and you need little to no funds to get started.
But what exactly is it?
Affiliate marketing is an online business where brands (and even individuals) pay you to promote their goods or services.
In other words, you receive payment for introducing clients to a product.
Here's how to make money online in Nigeria using affiliate marketing:
It is important to choose a niche that fits your talent, a suitable audience and product that will help you make money.
For example, you could decide to focus on online courses if you're still a student and have a knack for teaching.
Pick a social media platform you are very familiar and comfortable with.
It could be Facebook, YouTube or Instagram.
Just ensure it's a platform you understand and one that's accessible to your audience.
Then arm yourself with knowledge, by digging and doing lots of research.
Join an affiliate and there are many legit affiliate programmes in Nigeria, you can take advantage of.
Create high-quality content you'll use to promote the brand (or product) you're affiliated with and connect with your audience.
For example, you could make a YouTube video or write a blog post.
Market your content and your platform: You can try SEO, paid ads or direct word-of-mouth marketing to ensure they visit.
The point is to get people to see the content and click your affiliate links (or take some other action).
Get paid: Although getting lots of traffic is awesome, most affiliate programs only pay you if your audience completes an action (like making a purchase). Therefore, we recommend selling the benefits of the product as best as you can.
That's all there is to it! The steps you'll take might differ slightly — depending on your affiliate programme — but always do research to avoid Ponzi schemes and similar scams.
2. Blogging
To make money from blogging in Nigeria, you need to find a niche.
Decide if you want to do creative writing, write news articles or work on creative non-fiction. It's totally up to you!
Create an account on a self-publishing blogging platform.
We recommend using Medium or Substack, but WordPress is also pretty great!
They're free and easy to set up, even without a technical background.
Set up monetisation: If you want to earn money online by offering paid memberships and participating in platform partner programs.
Medium and Substack are perfect, WordPress is ideal if you want to make money from online ads.
Start writing: It's essential you write for your audience, but ensure you create high-quality content.
And remember to enjoy the process!
Publish your work: It should take a maximum of a few seconds to publish, irrespective of your blogging platform.
And don't forget to market your content on social media (and everywhere else, really) so you get more traffic.
As you'd expect, the larger your blog traffic, the more money you make!
One last thing: While excellent writing skills are a plus, you'll build a larger audience and make more money by putting out engaging and properly optimised content.
So, don't shy away from putting in the work!
3. Content Creation
Content creation has been on-the-rise in Nigeria since social media platforms like Facebook and Instagram became mainstream.
At the moment, video content has the world in a firm grip.
But how do content creators monetise their work?
Well, here's how to make money online in Nigeria as a content creator:
Choose your niche: You can create content around beauty, comedy, dance, food, pranks or even education.
It's unlikely that a niche is saturated — you just have to bring your own spin to the field.
Select the best social media platform for your content: We recommend you pick one that you understand and that's easy to use.
You can also go for trendy options like TikTok.
Create and post your content: Keep it as authentic as possible and have fun while you're at it!
Monetise your content: Try collaborating with brands and running ads.
You can also partner with the platform you're on. YouTube, for example, has a Partner Programme.
We all know how much of a big deal content creation is in Nigeria.
4. Crypto, Forex And Stock Trading
One of the very viable means of making money online presently is via crypto, forex and stock trading.
The financial market is always a great way to make money — whether you trade cryptocurrency, forex or stocks.
As long as you have a solid understanding of the basics and some money to invest in the market, you can thrive as a trader.
Of course, it's easier said than done, and you'll need to put in a lot of work to succeed.
It will be wise to carefully research the market you plan on trading in and get some training.
The good thing however is that there are lots of paid courses that can help on this journey.
You can also find free resources online or read books on the subject.
Open a trading account: To start trading you will need to create a trading account.
The account you would create depends on the market you want to trade in.
For instance, you must create a brokerage account if you're trading forex.
Create a trading strategy: You need a solid plan as a trader; it's the best way to make it in the field.
And remember to be as disciplined as possible.
Start trading and collect profits: You can withdraw your earnings directly to your bank account or reinvest it in the market. It's up to you!
Overall, trading is pretty lucrative in Nigeria and can even help you make money daily if you're disciplined and patient enough to do the work.
5. E-commerce
E-commerce is the online equivalent of owning a physical store — without the hassle of a heavy rent and all the benefits of the internet.
After all, everyone is shopping online these days.
All you need to get started is to create a virtual storefront where you can market and sell your products.
Here's how to make money online in Nigeria from e-commerce:
Decide on what to sell and pick a target market: We recommend selling an always-in-demand item — like food or clothes — anything people will buy also works.
Find a reliable supplier for your products: You can save money by buying wholesale but ensure the product is of high quality.
Also, it is good to note here that you can create your own products, but where you can't take the alternative below.
Buy and photograph the products: Excellent product photography can go a long way in e-commerce, so don't skip this step.
In fact, you should hire a professional photographer to help, if your phone just doesn't cut it.
Create an e-commerce store: You can use popular platforms (like Jiji, Jumia and Konga) to get started.
Start a social media page. Marketing is a big deal when running a business — especially if it's online — and these platforms can boost your visibility.
Of course, you can also use your social media page to gather feedback and handle customer complaints.
Sell your products: You can make a lot of money from e-commerce, but it's important to be consistent and easily accessible.
And don't forget to use a reliable delivery service to ensure your customers are happy.
You might want to register your business with the Corporate Affairs Commission (CAC) as soon as things start looking good for the business.
6. Podcasting
Podcasts pretty much came out of nowhere and are now a smash hit in Nigeria.
And why not? After all, who doesn't enjoy a good gist?
Plus, they're pretty profitable!
Being a podcaster is almost like being a video content creator — just different content and medium.
Therefore, you can monetise the same way creators on Instagram and other platforms do — through brand collaborations and paid ads.
Here's how to make money online in Nigeria from podcasting:
Choose a niche and theme for your podcast: It can be about anything: football, politics, anime, tech — whatever you want!
Select a format: You can decide to have one or more co-hosts, do long form or bite-sized episodes, or even put a spin on your podcasts.
For example, only dropping episodes when a new season of Big Brother Naija is on.
There are no rules — you decide!
Pick a platform for your content: Spotify for Podcasters is one of the best ways to get started in Nigeria.
You can also use YouTube — where you can record (and upload) videos alongside your regular audio content.
Get recording equipment and editing software. Your smartphone can serve you well if you're just starting.
But investing in equipment like microphones and headphones will significantly improve the quality of your content.
Record and post your podcast: Do your thing! And remember to make your podcasts as engaging as you can.
Monetise your content: You can collaborate with brands or run sponsored ads.
Podcasting is still in its early stages in Nigeria, and you can make a lot of money from it if you do it well.
We recommend taking it slowly and only focusing on creating quality content — especially if you're just starting out.
This Is What Standard And Poor's Agency Said About Tinubu Reforms