Leading a densely populated nation like Nigeria, whose economy is fast going under, one must put on his thinking cap and be ready to work.
Thinking and strategising, is Nigeria's President's strong suit. So, it does not come as a surprise that he has gone to India to woo investors rather than seek loan opportunities.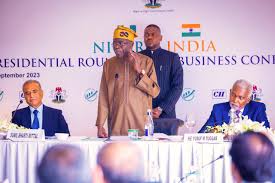 While in India, President Bola Tinubu attended the G20 summit and also took time to woo potential investors.
Tinubu held talks with Indian investors under the Nigeria-India presidential round-table and conference to mobilise global capital to develop infrastructure.
You May Also Like: Election Tribunal: Tinubu's Body language Points To Verdict
Determined to revitalise the economy through investments and internally generated revenue, President Tinubu says he will not borrow to fix the economy.
Tinubu Secured Over $14 Billion Pledges
Interestingly, the Nigerian president secured nearly $14 billion of pledges from Indian investors.
It was revealed on Wednesday, that the president is further seeking economic co-operation pact with the South Asian nation.
The spokesperson to the president, Ajuri Ngelale, said, India's Jindal Steel and Power had committed to pump $3 billion into Nigeria's steel sector.
He revealed that Indorama Corp, is interested in investing an additional $8 billion to expand its petrochemical facility in the West African country.
While Skipperseil Ltd's founding Chairman, Jitender Sachdeva, and India's Bharti Enterprises are pledging $1.6 billion over four years to build power generation plants and $700 million in Nigeria, respectively.
A Three-Year Pact
Furthermore, Nigeria reached a $1 billion partnership agreement with the Indian government.
The pact involves helping the Defence Industries Corporation of Nigeria attain 40% self-sufficiency in local manufacturing and production of defence equipment in three years.
Tinubu is attending the G20 summit at the invitation of India.
Addressing potential investors, he said: "We are ready to give you the best returns for investment possible, there's nowhere else like our country".
Have You Read: Moment Peter Obi Arrived Election Tribunal Venue (Video)
Tinubu has embarked on Nigeria's boldest reforms in decades, including scrapping a popular but expensive petrol subsidy.
Nigeria is planning to apply to become a member of the G20, after SA, and is consulting on the risks and benefits.