Looking for some exciting movies to watch this weekend? You're in for a treat.
We've handpicked a list of captivating films that will make your weekend a whole lot more enjoyable.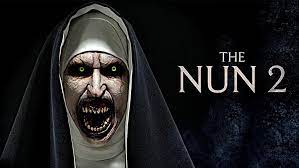 Get ready to be entertained and immersed in thrilling stories that will keep you hooked from start to finish.
1. The Nun II
In 1956 France, a priest is violently murdered, and Sister Irene begins to investigate. She once again comes face-to-face with a powerful evil.
Starring: Taissa Farmiga, Bonnie Aarons, Storm Reid
2. Strays
When Reggie is abandoned on the mean city streets by his lowlife owner, Doug, Reggie is certain that his beloved owner would never leave him on purpose.
But once Reggie falls in with a fast-talking, foul-mouthed stray who loves his freedom and believes that owners are for suckers.
Reggie finally realizes he was in a toxic relationship and begins to see Doug for the heartless sleazeball that he is.
Starring: Jamie Foxx, Will Ferrell, Will Forte
3. Happy Ending
A young woman quietly unsatisfied in the bedroom by her boyfriend puts their relationship to the test when she proposes to open up their sex life to a third person.
Starring: Gaite Jansen, Martijn Lakemeier, Joy Delima.
4. King Of Killers
Garan is part of a group of international hitmen who are contracted to take out the most dangerous killer in the world, only to find out that they're the ones being hunted.
Starring: Frank Grillo, Alain Moussi, Kevin Grevioux
5. Rocky And Rani's Love Story 
Gym-freak brat Rocky falls in love with Rani, who comes from a well-educated Bengali family.
Being from polar opposite worlds, the two decide to switch families to adjust to each other's cultures and backgrounds and to know if their marriage will survive.
Rocky and Rani are trapped in a world where they are united by love but divided by families, and the ultimate question is: will they fit in?
Starring: Ranveer Singh, Alia Bhatt, Shabana Azmi.
Here's another great read for you: 5 Interesting Weekend Movies To See