Violent riots in South Africa have thrown the family of a British doctor and five others into mourning.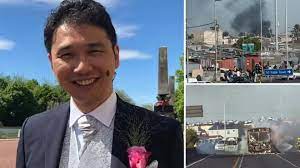 The Briton was shot and killed during the violent riots that broke out in South Africa after an announcement that minibus cab drivers would go on strike for one week.
He is one of five persons that have died as a result of the turmoil.
The 40-year-old, who was purportedly a doctor, was a tourist. He was killed last Thursday in Cape Town's Ntlangano Crescent neighbourhood, according to officials.
He was reportedly driving with two other people when he took a wrong turn from a local airport, at which point a gang of people approached the car and shot him.
The start of unrest on the outskirts of the second-largest city in South Africa came after minibus cab drivers declared a week-long strike.
The taxis' national union, which is angry at what it calls 'heavy-handed tactics' by police and city authorities in impounding vehicles.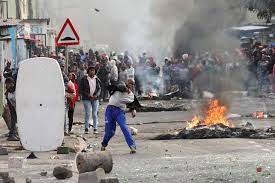 It said its members aren't instigating the violence, insisting that other persons are using the strike as an excuse to launch their own protests.
Five separate murders have been recorded during the protests.
According to the South African Police Service, protests are characterised by stone-throwing, road blockades, looting, arson and public violence.
Have You Read: Sad! 10 Family Members Killed In South Africa
A community safety officer was killed on Friday night, with city authorities also linking that officer's death to the protests.
Vehicles have been set on fire across the outskirts of Cape Town and one of the city's depots was firebombed over the weekend, authorities said.
The Foreign Office advised Britons to be on alert while travelling in the country.
Watch As Nigerians React To The Killings In Plateau