In the face of the multi-faceted challenges bedevilling Nigeria as a country, one of the things keeping Nigerians together, is the hope that the economy will one day rise again from its slumber.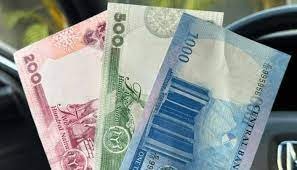 The economy of the most populous black nation on earth is facing many challenges.
These issues have plunged it into what some might call an 'irredeemable debt burden'.
Read Also: "We Support Unified Exchange Rate" – ABCON President
This debt burden weighed too heavily on the shoulders of the past administrations.
They had tried hard to reduce it but only managed to top it with more debt icing, increasing the debt layer.
It is in view of this terrible unhealthy economic situation that the administration of President Bola Tinubu has resolved to bullishly tackle the economic challenges.
A few of the things the President said at his inauguration sounded fallacious but we can now see that he meant business.
Statement like 'subsidy removal is gone. 'We shall revamp the economy' and 'we shall unify the multiple exchange rates among other things'.
Late on Wednesday Nigerians got another news that will further pinch hard.
A shocker in a statement by the Central Bank of Nigeria says the multiple exchange rate system will not longer be part of Nigeria's system.
So, many people will be wondering, what does this mean for the economy or how does this help?
If you are in that space, here are a few benefits of the unified exchange rates system you should know.
6 Benefits Of Nigeria's Unified Exchange Rates
It is no longer rumour that the Nigerian economy is struggling with high inflation rate.
This rate keeps skyrocketing month in month out. Sadly, it could plunge the economy into recession.
But if well managed, the decision of the current administration could be a fortune the country should have tapped since.
Here are a few things you should know about this new system of a unified exchange rate.
A unified exchange rate will drag down the parallel rate (black market) which would lead to a decline in inflationary pressure. Will be most effective when there is availability of dollars in the banks.
Unifying the exchange rates system would encourage people to channel their forex to the official market and open up Nigeria's investment climate.
A Unified exchange rates system reduces the demand for forex because the 'privileged persons' who access the cheap dollar and sell to the Bureau de Change operators will no longer see it as an attractive business.
Read Also: Exchange Rates: Tinubu Abolishes Multiple Exchange Rates
Investors will be more confident to invest in the economy, as they will be able to make plans for their investment.
The money government loses by giving some few people access to forex can now be saved.
Unified exchange rate would increase government's revenue from the sale of forex as FX will be sold at an attractive rate.
Economists have backed the CBN's unification of the exchange rate as Naira falls to ₦664
See President Tinubu's Unified Exchange Rate Plan