President Bola Tinubu on Thursday finally submitted the list of his ministerial nominees to the Senate for confirmation.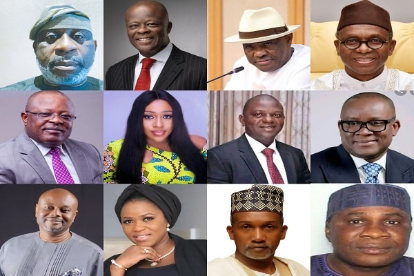 The list is made up of former governors, technocrats and chieftain of the ruling All Progressives Congress (APC).
In this article, iBrandtv takes a look at the profile of some of the eminent individuals in the list:
1. Amb. Yusuf Maitama Tuggar
Amb. Tuggar, born 12 March 1967 was appointed the Nigerian Ambassador to Germany by President Muhammadu Buhari.
He was a member of the Nigerian House of Representatives from 2007 to 2011 representing Gamawa; and he ran twice for Governor of Bauchi State.
Tuggar represented Gamawa from Bauchi State in the Nigerian House of Representatives from 2007 to 2011.
2. Arch. Ahmed Dangiwa
Before taking over as the Managing Director/Chief Executive Officer of the Federal Mortgage Bank of Nigeria, Dangiwa, an architect, had been managing partner of AM Design Consults, an architectural and real estate development consultancy firm, since 1996.
Dangiwa had his first and second degrees in architecture from Ahmadu Bello University, Zaria, where he also earned an MBA.
He is an alumnus of the prestigious Wharton University Pennsylvania, U.S.A. and has attended numerous training courses.
3. Barr. Hannatu Musawa
Hannatu Musawa is a lawyer, politician and author. She was the deputy spokesperson and Deputy Director Public Affairs of the All progressives congress (APC).
She was also the secretary screening committee of the APC for the presidential aspirants.
Musawa hails from Katsina State while her father is a veteran politician Alhaji Musa Musawa.
She graduated with a degree in Law from the University of Buckingham, UK.
Also, she has a postgraduate Master's degree in the Legal aspects of Marine Affairs from the University of Cardiff wales.
She also has a Master's degree in Oil & gas from the University of Aberdeen.
4. Uche Nnaji
Uche Nnaji was the governorship candidate of the All Progressive Congress in Enugu State.
Nnaji hails from Akpugo in Nkanu West Local Government Area of the state.
The governorship candidate came to the limelight in 1999 when he won the senatorial ticket of the then Alliance for Democracy, AD. He was later to step down for Chief Jim Nwobodo, who was eventually elected senator for the senatorial district.
Uche Nnaji is a brother to Hon. Nnoli Nnaji of Nkanu East and West Federal Constituency in the House of Representatives.
5. Dr. Betta Edu
Dr. Edu, born on 27th of October 1986, hails from Ibalebo village in Abi local government Area, Cross River State.
Betta completed her secondary education at Federal Government Girls College, Calabar, she is a graduate of medicine and surgery from the University of Calabar.
She is a Harvard certified, Fellow of the Royal Society for Public Health, United Kingdom, and until recently, the Cross River State Commissioner for Health and National Chairman of Nigeria Health Commissioners Forum.
In 2022, she emerged as the youngest female to become the National Women Leader of the All Progressives Congress.
6. Dr. Dorris Aniche Uzoka
Dr. (Mrs) Doris Uzoka-Anite was a former Commissioner for Finance and Coordinating Economy, Imo State.
She was also a former General Manager of Zenith Bank Plc. She hails from Oguta LGA of Imo State.
7. David Umahi
Umahi was a two-term Governor of Ebonyi State between 2015 and 2023.
The former Governor participated in the APC presidential primaries where he polled 38 votes to come a distant sixth in the election won by President Bola Tinubu.
After a prolonged battle in various courts, INEC recognised Umahi as the candidate for the district, from where he was subsequently elected as a first-timer at the 10th Senate.
8. Nyesom Wike
Nyesom Wike, the immediate past governor of Rivers State, was born December 13, 1967.
The Ikwerre-born lawyer turned politician was a two-time Executive Chairman of Obio Akpor Local Government Area from 1999 to 2007.
He obtained his Bachelor of Law from the Rivers State University of Science and Technology before proceeding to Law School in 1997.
9. Mohammed Badaru Abubakar
Mohammed Badaru Abubakar MON, born 19 September 1962, served as governor of Jigawa State from 2015 to 2023.
He is the Chairman, Presidential Committee on Fertilizer and also the Chairman, Presidential Committee on Non oil Revenue, and he is also the owner of Talamiz group of industries.
Abubakar is a graduate of Ahmadu Bello University, Zaria where he obtained a B.Sc Accounting degree.
Badaru is also an alumnus of the National Institute of Policy and Strategic Studies (NIPSS) in Kuru
10. Nasir El-Rufai
Nasir El-Rufai, is the immediate past Governor of Kaduna State and a founding member of the ruling APC.
He served as Minister of the Federal Capital Territory from 2003 to 2007 and played a significant role in restructuring the capital city.
Before being appointed Minister of the FCT, he was the director of the Bureau of Public Enterprises, a role he played successfully.
El-Rufai is a first-class graduate of Quantity Surveying from the Ahmadu Bello University, Zaria.
11. Rt. Hon. Ekperipe Ekpo
Hon. Ekpo is a renowned grassroot politician, and a former Council Chairman who was in the House of Representatives between 2007-2011.
Ekpo who is the Director general of Akwa Ibom Democratic Forum (ADF), is also a prominent chieftain of the All-Progressives Congress (APC) in his home state.
12. Hon Nkiru Onyejeocha
Nkeiruka Chidubem Onyejocha, born on 23rd of November 1969, is a ranking lawmaker in Federal House of Representatives, representing Isuikwuato/Umunneochi Federal Constituency of Abia State.
Onyejocha was previously Executive Transition Chairman of Umunneochi Local Government Area of Abia State in 2002.
In 2003 she served in the executive cabinet of Abia State as commissioner for Resource Management and Manpower Development.
During the 7th assembly she was awarded the most vibrant female legislator in Nigeria by Parliamentary Staff Association of Nigeria (PASSAN).
13. Hon. Olubunmi Tunji Ojo
Olubunmi Tunji-Ojo, born 1st of May 1982, is is a lawmaker from the Akoko North East/Akoko North West Federal Constituency of Ondo State.
In 1999, he gained admission into Obafemi Awolowo University, Ile-Ife to study Electrical and Electronics Engineering.
In 2002, while in his third year at the Obafemi Awolowo University, he proceeded to the University of North London (now London Metropolitan University) where he studied Electronics and Communication Engineering and graduated in 2005.
He obtained a master's degree in Digital Communication and Networking from the same institution in 2006.
He holds certifications in eighteen professional qualifications in ICT including the prestigious title of being one of the first set of certified ethical hackers from Royal Britannia IT Training Academy in the United Kingdom before he turned 24 years.
14. Stella Oketete
Hon. Stella Okotete holds a Bachelor of Arts degree in International Studies and Diplomacy from Benson Idahosa University. She also has a Diploma in Law from the Rivers State College of Arts and Sciences.
She also holds a Master's degree in Public Administration and Peace Studies and Conflict Resolution.
In addition to her academic qualifications, she has completed prestigious certificate programs, including the Harvard Kennedy School Certificate Program for Emerging Leaders and the Entrepreneurial Management program at the Lagos Business School.
She is an influential figure within the All Progressives Congress (APC). She was the National Women Leader of the APC Caretaker/Extra-Ordinary Convention Planning Committee (CECPC).
Okotete was also appointed as the Executive Director, Business Development, Nigeria Export-Impor (NEXIM) Bank in 2017. Between 2011 and 2015, she served as the Special Assistant and Adviser to the Executive Governor of Delta State on the Millennium Development Goals (MDGs)
15. Bello Muhammad Goronyo
Bello Muhammad-Goronyo was a former Commissioner for Information in Sokoto State during the tenure of Governor Aminu Tambuwal.
Muhammad-Goronyo was however sacked after decamping from the ruling Peoples Democratic Party (PDP) to the All Progressives Congress (APC).
The former Commissioner, was also the Chairman, Publicity and Media Committee of PDP Governorship Campaign Council in Sokoto State, until he decamped.
16. Hon. Uju Kennedy Ohanenye
Married with four children, Kennedy-Ohanenye is a businesswoman with stakes in real estate and education. Her foray into the last All Progressives Congress (APC)'s male-dominated presidential primary was, for her, a necessity.
Not intimidated by the array of male aspirants, Kennedy-Ohanenye waded in the murky waters of her party's electoral process until she 'smartly' announced her withdrawal from the race at the party's special convention, and also mobilised support for the former Lagos State governor, Asiwaju Bola Tinubu.
17. Dele Alake
Henry Dele Alake is the Special Adviser to President Bola Tinubu on Special Duties, Communications, and Strategy.
The Ekiti State-born politician was commissioner for Information and Strategy in Lagos State under the government of Bola Ahmed Tinubu between 1999 and 2007.
The University of Lagos Political Science graduate worked at MKO Concord Press as Editor of the National Concord from 1995 to June 1999.
Alake is a former vice President of the Nigerian Guild of Editors. He belongs to several national, regional, and international professional bodies, such as the Nigeria Union of Journalists (NUJ) and the West African Union of Journalists.
18. Lateef Fagbemi SAN
Lateef Fagbemi was born on June 22, 1956 in Ijagbo, Kwara State, Nigeria.
He is a Senior Advocate of Nigerian (SAN) and a Jurist who has made a significant contribution to the development of Law and Justice in Nigeria. He was called to the bar in 1984.
19. Olawale Edun
Olawale Edun is a seasoned financial expert with extensive experience in the banking sector.
He possesses a strong background in economics, public finance, international finance, merchant banking, and corporate finance at national and international levels.
Edun served as the Honourable Commissioner for Finance in Lagos State for two unprecedented terms (1999-2007) during Tinubu's tenure.
He completed his Bachelor's Degree in Economics at the University of London and earned a Master's Degree in Economics from the University of Sussex, England.
Although specific details about his early life and education are not publicly available, his expertise and accomplishments speak for themselves.
Throughout his career, Wale Edun achieved remarkable success in the financial sector nationally and internationally.
Edun is an International Trustee of the Duke of Edinburgh's International Award Foundation and the Chairman of the Lagos Boxing Hall of Fame, a registered non-profit youth development group that runs amateur boxing in Lagos.
He is also the Chairman of the Livewell Initiative, a health sector Non-Governmental Organization (NGO), and a Trustee of Sisters Unite for Children, an NGO that helps children in need.
20. Adebayo Adelabu
Adebayo Adelabu, born on 28th of September 1970, is a former Deputy Governor, Operations of the Central Bank of Nigeria and 2019 Oyo State gubernatorial candidate for the All Progressives Congress.
Adelabu received a first class degree in Accounting from Obafemi Awolowo University, Ile-Ife.
He is a Fellow of the Institute of Chartered Accountants of Nigeria (ICAN), a Fellow of Chartered Institute of Bankers of Nigeria and an Associate Member of the Institute of Directors of Nigeria and the United Kingdom.
Adelabu has also taken up professional courses in various business schools, including Harvard, Stanford, Wharton, Columbia, Kelloggs, Euromoney, and the University of London.
Adebayo was appointed by former President Goodluck Ebele Jonathan in February 2014 as Deputy Governor, Operations of the Central Bank of Nigeria (CBN).
21. Imaan Sulaiman-Ibrahim
Imaan Sulaiman-Ibrahim was formerly the director-general of National Agency for the Prohibition of Trafficking in Persons (NAPTIP) from 1 December 2020 till 27 May 2021, when former President, Muhammadu Buhari announced a swap and she was redeployed as the Honourable Federal Commissioner of the National Commission for Refugees, Migrants, and Internally Displaced Persons.
At 19, she graduated from University of Abuja with a degree in sociology. At 21, she received two master's degrees from Webster University, an MBA and MA.
Sulaiman-Ibrahim was born in Jos, Plateau, but she hails from Keffi, Nasarawa State.
22. Prof. Ali Pate
Muhammad Ali Pate CON, was born on 6th September 1968.
He is a physician and a Professor of the Practice of Public Health Leadership in the Department of Global Health and Population at Harvard University.
He formerly served as the Global Director for Health, Nutrition and Population and Director of the Global Financing Facility for Women, Children and Adolescents (GFF) at the World Bank Group. Pate was also the former Minister of State for Health in Nigeria.
Pate was born in the Misau local government area of Bauchi State in Nigeria.
Pate graduated from high school to enter the Ahmadu Bello University (ABU) medical school in Kaduna State, Nigeria.
He graduated from ABU and moved to Gambia where he worked in rural hospitals for a few years.
23. Prof. Joseph Userve
Professor Joseph Terlumun Utsev is a civil engineer and former Rector of federal polytechnic, Wanune, Tarka LGA of Benue state.
He was an associate Professor at the University of Agriculture, Makurdi.
Utsev, from Buruku LGA, was a commissioner in the Samuel Ortom government. He is Tiv, the dominant ethnic group in Benue state.
24. Senator Abubakar Kyari
Abubakar Kyari CON, born 15 January 1963, was the senator representing Borno North Senatorial District of Borno State at the 9th National Assembly from 2015 until his resignation in April 2022.
He is a member and the acting national chairman of the ruling All Progressives Congress.
Kyari was born in Borno State. His father was Late Brigadier Abba Kyari – Former military administrator to North Central from 1967 to 1975.
He was educated in Nigeria and United States of America.
He attended Kaduna Capital School in 1974. He then proceeded to Barewa College Zaria where he obtained his WASSCE In 1979.
He attended the University of Tennessee Martin in USA where he obtained a bachelor's degree in 1986.
Thereafter in 1989, he attended Webster University St.Louis Missouri USA for his Masters in Business Administration (MBA).
25. Senator John Enoh
Sen. Enoh was born and raised in Agbokim Waterfall community of Cross River State.
Enoh was a Senator in 2015 representing Central Senatorial District of Cross River State in the 8th Assembly of the Senate.
He was a member of the People's Democratic Party (PDP) up until May 2017 when he decamped to the ruling All progressive Congress (APC) and contested for governorship and lost to incumbent governor Ben Ayade.
26. Sani Abubakar Danladi
Sani Abubakar Danladi was former Acting Governor and Deputy Governor of Taraba State.
He also served as the Senator representing Taraba North Senatorial Zone on the platform of the People's Democratic Party before he was impeached.
He was born on May 20, 1967, in Bachama, Karim Lamido Local Government Area of Taraba State.
Danladi defected to the All Progressives Congress. It was on this platform that he contested for the governorship seat of Taraba State in 2019. He lost to Darius Ishaku of PDP.
27. Engineer Abubakar Momoh.
Engr. Momoh hails from Etsako East LGA of Edo state. He is a Civil engineer by professional training.
Momoh was a two-time member of the House of Reps.
He dumped APC for PDP in 2019 and flew the party's ticket in the Edo North senatorial election and lost. Thereafter, he returned to the APC.
28. Muhammed Idris.