Serving the Nigerian public is surely not an easy task, especially in times like this when the masses are cruising in hunger.
As a matter of fact, the frustration in the country at this moment is enough to cloud one's sense of judgment with huge sentiments.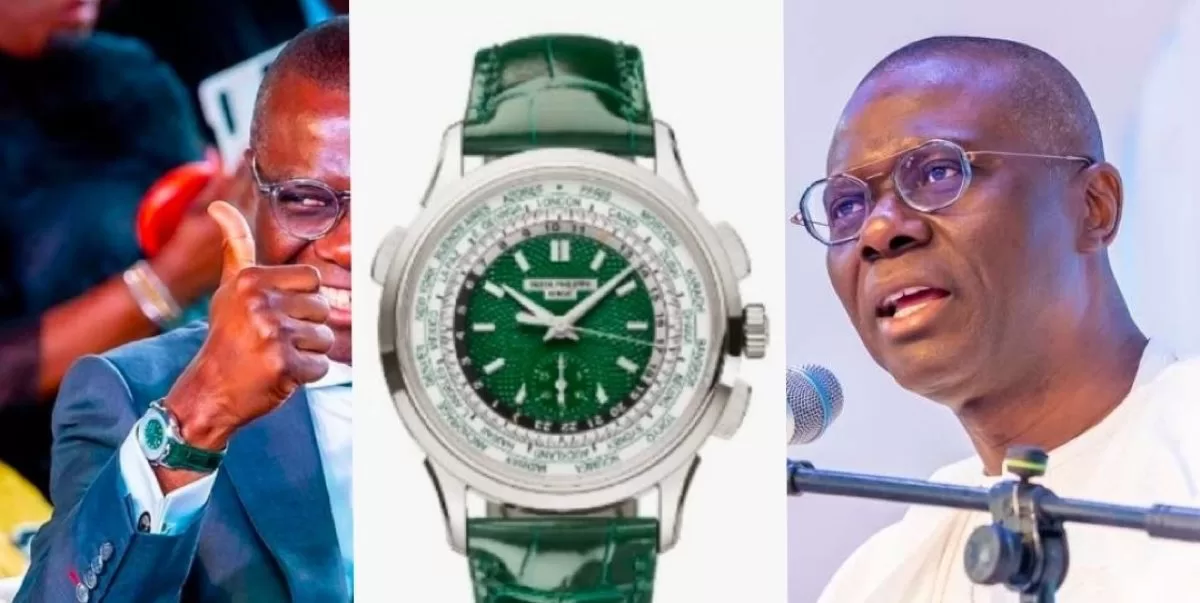 This is the reason many people appear offended seeing the Lagos State Governor, Babajide Sanwo-Olu, rocking his exotic collection of a Patek Philippe wristwatch estimated to sell for ₦160 million.
Fuel Subsidy Removal
This comes amidst the poverty and soaring inflation biting hard on many residents of Lagos and other part of Nigeria due to the fuel subsidy removal.
The luxury watch was shared online by social commentator Feyi Fawehinmi on Sunday afternoon, August 20, 2023, alongside the watch's price on the Chrono24 website, a platform where the wealthiest people in the world shop for their wrist candies.
Chrono 24, on its website, pegged the wristwatch's price at £136,189, about ₦160 million, based on the current exchange rate of ₦1,170 per pound.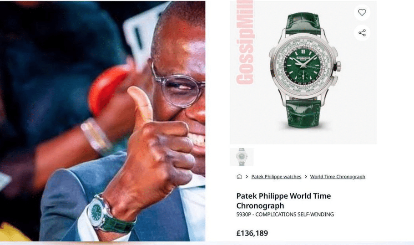 Reactions
This sparked mixed reactions from netizens as some claimed that Sanwo-Olu's luxury lifestyle is not a new thing, while others claimed it was inappropriate.
See some reactions below:
swag_omoluabi wrote: "Lol, Sanwo-Olu has been a fashion enthusiast even before he became governor."
princesssholly24 wrote: "What if it was a gift? moreover The guy can comfortably afford it since his days of being commissioner in Lagos."
heyzedfirst wrote: "Looks from different perspectives. It's really hard to serve the public.If he was an artist/celebrities that used same things, we wouldn't ask them use it creates job or questions where they get the money.
A Governors get paid too! and/or may also have side business. But Naija mentality makes us think they should behave like angels.
I'm not justifying them based on our expectations nor supporting them but they are human too. If you Let them breathe too. Peace and unity"
onyin wrote: "Some of una wey Dey criticize am,if na una papa Dey that position I know you guys will do more than what he's doing…..make una leave person papa alone!"
moyotheswety wrote: "Nice watch my governor you deserve am given as that election take be, you deserve 2 Ava"
sherriftaofeek wrote: "So because of Lagos people make he no use better thing if na you be him you go do pass this one"
djlahrry wrote: "He works hard he should also have assets"
thelifeofryan wrote: "I don't understand so he should wear 5k wristwatch"
gurabtc wrote: "Who are all this people saying rubbish? put emotions aside, we no say country hard and this people no try buh Shey una pray make una deh work for years make you no fit use better thing ni ?"
chigoziedouble wrote: "Na Lagos tax payments money he dey chop dey enjoy while people never collect the 8k wey the president promised us."