In a captivating interview with renowned media personality and actress, Nancy Isime, veteran Nollywood actress, Joke Silva, has finally opened up about her deeply personal marital struggle with her beloved husband, the iconic actor, Olu Jacobs.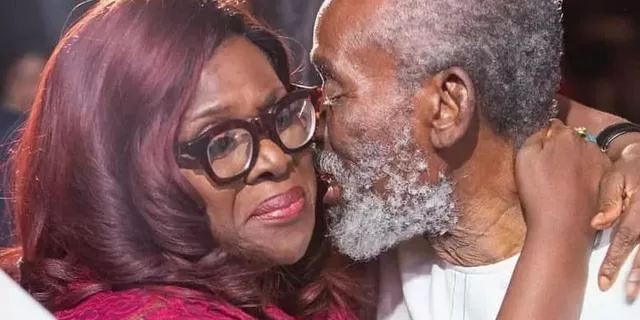 The revelation centers around the profound impact Olu Jacobs' battle with dementia has had on their once-thriving relationship.
Joke Silva, with a mix of nostalgia and vulnerability, shared touching insights into their journey together, revealing the emotional rollercoaster they have faced.
With a deep sigh, she confessed: "It hasn't been easy.
"There was a point of acceptance for me that everything happening is reality, and it is like the person I married, who is no longer there 80% of the time".
As the interview unfolded, Joke Silva vividly painted a picture of their early years together, where love and companionship thrived.
'Someone I Still Love'
She fondly reminisced: "But the thing is this: when he was there, he was an incredible father to his children and an amazing husband; he was practically my best friend".
The emotion in her voice revealed the bittersweet truth of how cherished memories intertwine with the heartache of the present.
Despite the drastic changes brought on by her husband's illness, Joke Silva bravely expressed her enduring love and loyalty.
Looking directly into the camera, she uttered words that echoed with profound emotion: "The husband I knew is no longer there for me, but this man that is here is someone I still love".
Her resilience and unwavering commitment showcased the depth of her character and the unbreakable bond they share.
Watch the interview below
Here's another great read for you: Again Actress Joke Silva Debunks Death Rumor Of Her Husband, Threatens Lawsuit
Watch when Joke Silva debunked her husband's death rumor.