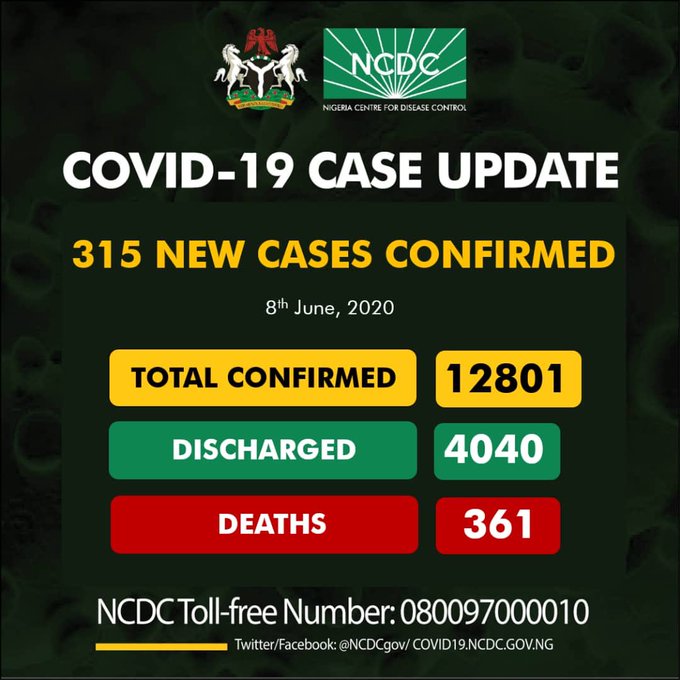 Following the confirmation of 315 new Coronavirus (COVID-19) cases in the country by the Nigeria Centre for Disease Control, NCDC, the most populous black nation in the World now has a total of 12,801.
The NCDC also confirmed seven deaths on Monday, bringing the total number of death to the virus in Nigeria to 361.
The health agency disclosed this development on its microsite.
According to NCDC, "On the 8th of June 2020, 315 new confirmed cases and 7 deaths were recorded in Nigeria. No new state has reported a case in the last 24 hours.
"Till date, 12801 cases have been confirmed, 4040 cases have been discharged and 361 deaths have been recorded in 35 states and the Federal Capital Territory.
"The 315 new cases are reported from 14 states- Lagos(128), FCT(34), Rivers(32), Edo(28), Oyo(22), Kaduna(20), Gombe(13), Ogun(8), Plateau(5), Delta(7), Kwara(7), Kano(5), Bauchi(4), Katsina(2)."
Meanwhile, the Association of Resident Doctors (ARD), University of Ilorin Teaching Hospital (UITH) chapter, on Monday urged the Federal Government to pay their allowances to avoid industrial action.
Dr Lanre Olosunde, the branch President of ARD, in a statement made available to iBrandTV in Ilorin warned that the strike would commence on June 15, if their demand was not addressed
Olosunde said that health workers were poorly paid in spite of the hazard encountered with the Coronavirus (COVID-19) pandemic, incurring extra expenses and facing greater health risks.
According to him, the federal government wants to stall and if possible renege on the agreement signed to pay hazard allowance to health workers.
"There is no better time for a government to prioritise health, workers and institutions.
"It is seven-days to a national indefinite strike by resident doctors. This strike is avertable if the government honours the agreement.
"The government should not be insensitive to doctors who have been in the front line especially in the on-going battle against COVID-19.
"Resident doctors constitute one of the major human power driving the healthcare of the nation," the local ARD president said.