A former Deputy Governor of the Central Bank of Nigeria (CBN), Tunde Lemo, has a message for Nigerians and it is not a palatable one. He is asking Nigerians to be ready for difficult times ahead as the government tries to revive the economy.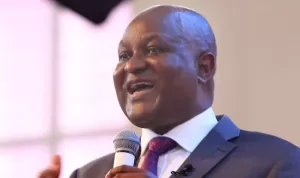 "Brace up for bumpy ride ahead, as the Federal Government moves to reposition the economy."
These are his words of encouragement to Nigerians.
Challenges Facing Federal Government
Lemo, said, running the Nigerian economy today cannot be a 'tea party' going by the volatile macroeconomic environment with a persistent fall in the rate of the naira.
Have You Read: See 10 African Countries With Highest Inflation Rate 
He said, the high rate of inflation at 24%, high unemployment rate, falling FX reserves and a huge national debt burden are cause for worry to the FG.
The ex-CBN boss revealed this during his paper presentation at the monthly breakfast of the Lagos Business School.
Transparent Sale Of Assets
His suggestion is that if the FG would implement a few things, the economy will rise faster than expected.
Among his suggestions are urgent reduction in the cost of governance, crush oil theft in the Niger Delta, review of the minimum wage.
In his opinion, the government should commit to the reforming the Central Bank and not obtaining any new debt.
In particular, Lemo advocates the sale of assets to reduce Nigeria's debt burden.
"The assets should be properly valued, and the sale should be open and transparent," he says.
According to him, while having a regime of low-interest rates will be good to wish for, it remains difficult to deliver at a time of high and rising inflation triggered largely by monetary and structural failures.
A Bumpy Ride
He urged Nigerians to commend the government for unifying the nation's exchange rate.
Furthermore, he advised "policymakers to jettison merging the two rates (Naira is not an internationally convertible currency).
"A gap of not more than 50 naira (between the I&E window and the parallel) should not worry the CBN".
You May Also Like: Tinubu Lists Agreement Reached For UAE To Lift Visa Ban On Nigerians
He said the apex bank should work to "clear outstanding commitments including swaps, all repatriation by the airlines and other multinationals, review the negative list and line up credit support (only for the BOP support)".
Also, Lemo believes that the government's attempt to reform the nation's tax laws was a good move.
However, he said the work must be done expeditiously and that priority should be to enhance tax compliance and not increase in the tax burden.
Looking ahead, he said Nigerians should expect a bumpy ride.
, adding the government must be courageous enough to hire competent people capable of doing the job.