Shareholders of Tantalizers who have been waiting for a rise in the share price of the company will be in merry mood now.
Their joy rose after trading of Tuesday, August 15 when over 280 million shares worth ₦4.6 billion were traded by investors at the trading floor of the stock market.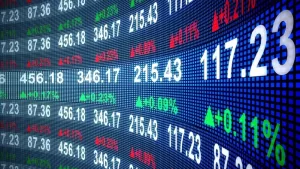 The appreciation of Tantalizer's share price by 10% contributed to the improvement of trading at the Nigerian Exchange Ltd (NGX).
As trading session came to an end, data showed that the over 280 million traded shares were made in 6,296 deals.
Have You Read: NGX: Market Cap Hit ₦35.5trn, As Chellarams, Dangote Make Gains
Compared with the previous NGX trading day, Tuesday's data show 8% improvement in volume, 10% improvement in turnover, and 7% improvement in deals.
NGX All-Share Index (ASI) shed 281.51 (-0.43%) points to close at 64,928.98, while market capitalization came to ₦35.5 trillion.
Gainers Table
Tantalizers led the gainers table with 10% share price appreciation closing at ₦0.44 per share.
Ikeja Hotel +9.82%, Cornerstone Insurance Company +9.3% and The Initiates +8.82%, also gained.
Losers Table
On the losing side, Eterna came out last with an end-of-day price depreciation of 9.86% at ₦16.00 per share.
Also on the losers table are Sunu Assurances Nigeria -9.62%, Omatek Ventures -8.11% and Unilever Nigeria -7.05%.
Transcorp Nigeria recorded the highest volume of 36.5 million traded shares, followed by United Bank for Africa 23.2 million.
Access Holdings followed at 17.7 million and Sterling Bank 16 million.
Regarding the performance of NGX market indices, NGX Top 50 Index -0.22%; -0.95% 1WK; +41.99% YTD, NGX Top 30 Index -0.43%; -0.41% 1WK; +28.42% YTD.
You May Also Like: NGX: Over 238m Shares Traded As Market Cap Sits At ₦34.9trn
Other remarkable indices that performed were the NGX Insurance Index +1.32%; +4.28% 1WK; +60.35% YTD.
NGX Premium Index -0.12%; -0.58% 1WK; +46.56% YTD, and NGX Pension Index -0.22%; -0.71% 1WK; +53.64% YTD.