Amid complaints of slow economic growth in Nigeria, investments in the stock market rose by ₦33.5 billion or 0.08%, as shares from Oando, CWG, Neimeth and Ikeja hotels as top gainers lifted trade on Friday.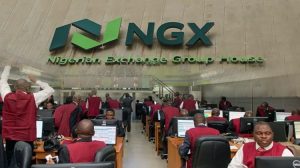 At the close of trade on Friday, September 8, 2023, investors on the Nigerian Exchange Limited (NGX) smiled home after a good day's job.
This is because the market capitalization of the NGX rose by 0.08%, representing a ₦33.51 billion growth in the value of investments at the stock market.
Have You Read: NGX Among Top Performing Markets In 3 Months
The NGX market capitalization began trading on Friday at ₦37.26 trillion, and closed at  ₦37.29 trillion.
Similarly, the NGX All-Share Index (ASI) rose by 61.23 basis points to close at 68,143.34.
A total of 483.48 million shares valued at ₦8.34 billion in 6,660 deals were traded by investors on Friday, which surpassed the previous day trade of 378.08 million shares.
Gainers 
Surge in the share price of Oando, from ₦7 to ₦7.70 kobo per share, lifted it to the top of the gainers table.
CWG gained ₦0.52 kobo to close at ₦5.78 kobo, above its opening price of ₦5.26 kobo per share.
Neimeth's share price was up by ₦0.15 kobo to move from ₦1.53 kobo to ₦1.68 kobo per share.
Ikeja Hotel posted a ₦0.25 kobo gain to close at ₦3.05 kobo compared to the previous ₦2.80 kobo per share.
Cutix's share value rose by ₦0.19 kobo to end trading at ₦2.55 kobo from ₦2.36 kobo per share.
Losers 
Topping the losers chart is Chellarams, which shed ₦0.32 kobo to drop from ₦3.22 kobo to ₦2.90 kobo per share.
Omatek's share price also dropped by 9.38 percent to end trading at ₦0.58 kobo from ₦0.64 kobo per share.
Associated Bus Company lost ₦0.10 kobo to end trading with ₦1.13 kobo from ₦1.23 kobo per share.
Thomas Wyatt lost ₦0.17 kobo to drop from ₦2.17 kobo to ₦2 per share.
Redstar Express' share dropped from ₦3.10 kobo to ₦2.87 kobo per share after losing ₦0.23 kobo during trading.
You May Also Like: NGX: Market Cap Rises To ₦37trn
Most Trades Shares
FCMB topped the day's trading with 116.86 million shares valued at ₦791.35 million.
Access Corporation followed with 36.25 million shares worth ₦631.84 million.
Oando sold 34.22 million shares worth ₦260.19 million.
UBA traded 34.20 million shares valued at ₦521.60 million, while Fidelity Bank sold 34.10 million shares valued at ₦297.36 million.