Maryam Shetty was nominated for a ministerial position, but Ganduje replaced her name with Mariya Mahmud.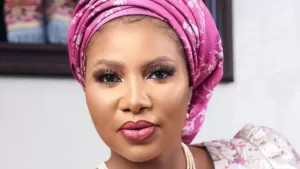 A former ministerial nominee, Maryam Shettima, popularly known as Maryam Shetty, has described the withdrawal of her nomination as the will of God.
On Wednesday, Tinubu forwarded Shetty's name to the Senate as a ministerial nominee from Kano State.
But in a twist, Tinubu withdrew Shettima's name, apparently at the instance of the ruling party chairman, Abdullahi Ganduje, and replaced it with a new nominee, Mariya Mahmoud.
In a statement issued on her verified Facebook page on Saturday, the former nominee said she would not allow the incident to stop her from believing in the country.
The statement reads, "I have found myself at the centre of a pivotal moment in Nigeria's political landscape.
President Bola Ahmed Tinubu, in a move that brought me immense honour, chose me as a ministerial nominee.
Coming from the traditional, conservative regions of northern Nigeria, this represented a significant stride towards a more inclusive national representation.
Also Read: Senate To Screen Festus Keyamo, Mairiga Mahmud On Monday
"The sheer joy and pride I felt at my nomination were beyond words.
"It was a validation of my capabilities, a nod to my vision, and a sign that our great nation was ready to embrace a future where young women like me, even from the most traditional parts of Nigeria, can hold positions of influence and power.
"Yet, life, with its characteristic unpredictability, led to the withdrawal of my nomination.
"To some, this could seem like a setback, but my faith as a devout Muslim guided my understanding.
"I saw it as the divine will of Allah, who I believe grants power as He wishes, when He wishes. His plans are always superior to ours."
While appreciating Tinubu for considering her for the position, Shettima expressed hope that the "best is yet to come her way".