Curiosity, they say, kills the cat, and if you scavenge enough for trouble, you just might find it.

A man got electrocuted while attempting to steal transformer cables in Niger State.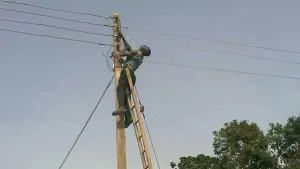 An unidentified man died of electrocution while trying to steal transformer cables in the early hours of Friday inside the premises of Niger State Printing Press in Minna.
Some staff of the printing press found his body hanging on the transformer on Friday morning.
Head of Legal Unit of the Abuja Electricity Distribution Company, AEDC, Aminu Ubandoma, confirmed the incident to newsmen.
He said the company had been receiving several reports of transformers vandalism.
He disclosed that the company was working with security agencies, especially with the police, to ensure a reduction in the rate of transformer vandalism.
Also Read: Rema Ethiopian Concert Cancelled Because Of Necklace
Also confirming the incident, the spokesperson of the Niger Police Command, DSP Wasiu Abiodun, said at about 11:00 a.m. on Friday, people reported an incident of suspected electrocution/vandalism.
He said the incident occurred around old secretariat area at the printing press premises where people found a body of a male adult at a transformer with cable cutter and some vandalised cables.
People believe he died of electrocution.
Abiodun said the body was taken to General Hospital Minna by Morris patrol team and was confirmed dead in the hospital.
He noted that effort was ongoing to locate the relative of the deceased as the incident was under investigation in collaboration with AEDC.