Lionel Messi: His mere presence on the pitch makes opponents see "ghosts", says Taylor Twellman, with that scary ability likened to NFL legend Tom Brady.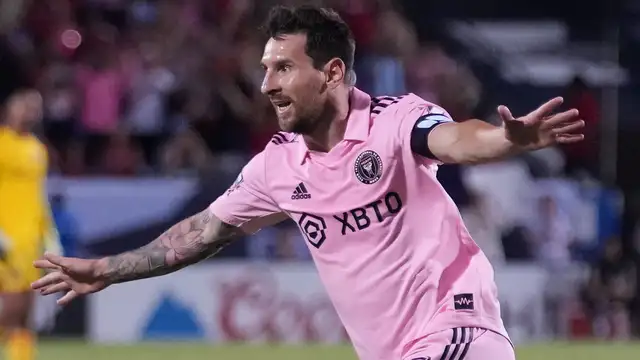 The Argentine icon put on another magic show in his latest appearance for Inter Miami, with the seven-time Ballon d'Or winner bagging a brace – including a dramatic late free-kick in a 4-4 draw – before then converting from the spot in a successful penalty shootout.
Alongside finding the target with two of his own strikes, Messi also forced a spectacular own goal from FC Dallas defender Marco Farfan with a set-piece that helped to highlight just how afraid rivals are of dealing with anything when the all-time great is around.
Seven-time Super Bowl winner Brady used to have the same impact on the teams that he faced, with ex-USMNT star Twellman telling Apple TV+ of how Inter Miami "have the opposition scoring worldly goals like Marco Farfan.
"I don't know what I saw – and they just make you crumble".
He added: "It's eerily similar in other sports: when the great ones come in, they force you to do stuff that's out of your element.
"You're uncomfortable doing so. The New England Patriots did this every single time.
"People would see a ghost when [Bill] Belichick and Brady showed up.
"In the four games [Messi's played in], every single time someone [on the opposition] has seen a ghost because Messi is on the other side".
Read more: Rasmus Hojlund Has Joined Manchester United For £72 Million
Lionel Messi has now scored seven goals for Inter Miami through just four appearances, with those efforts helping his new employers into the quarter-finals of the inaugural Leagues Cup.
Digital World: Nigerians Performance On Digital Platform