Lautaro Martinez has hit out at Romelu Lukaku amid a breakdown in the relationship between Inter and the Belgian.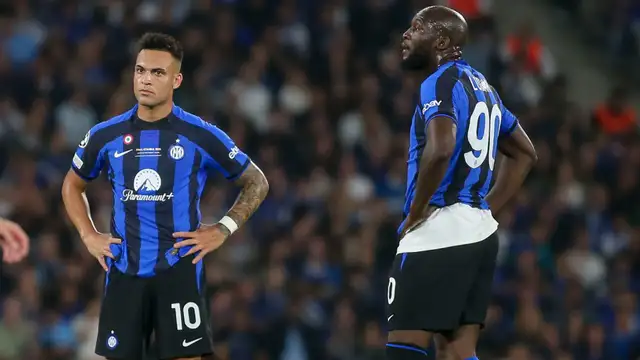 The Belgian striker was in negotiations to join Serie A rivals Juventus while the Nerazzurri were pursuing a deal with Chelsea for him.
Inter swiftly withdrew from talks as a result of the development.
According to reports, Lukaku did make an effort to mend fences with Inter and his former teammates, but the team turned him down.
His former strike partner, Martinez, slammed him for his "attitude" and revealed that the 30-year-old did not even pick up his calls amid the turmoil.
"I was disappointed, it's the truth. I also tried to call him in those days of chaos, he never answered me, the same he did with my other companions.
"After so many years together, after so many things lived together, I was disappointed.
"Thankfully, it's his choice. I wish him the best.
"But I didn't expect this attitude," he stated to La Gazzetta dello Sport.
After a phenomenal last season where he scored 27 goals in 56 matches across all competitions, Martinez, has been handed the armband for the 2023-24 season.
Confidence
He is ecstatic after being bestowed with the honour of leading the Serie A side and feels "ready" for the job.
"Wearing it means taking on more responsibility within the team, inside the locker room.
"But I've always done it before. I have a goal: to lend a hand to comrades in need.
"Important players have left? True, but I'm ready.
"For me it is a source of pride, I want to live up to the many champions who have worn the armband in Inter's history and make everyone proud of me.
"I'm in my sixth season here: I understand everything, I know everything, what I've learned I make available.
Read more: Riqui Puig Blames Xavi For Barcelona Exit
"I told the newcomers that if they've arrived at Inter it's because they have something and they've been chosen, not by chance.
"When you play, give everything and then the love of the fans will take care of the rest," he stated.
DIFFERENCE BETWEEN PURE WATER AND SACHET WATER: IT'S FUNNY HOW PEOPLE THINK