It's that time of year again when floods may render the inhabitants of some parts of Lagos homeless.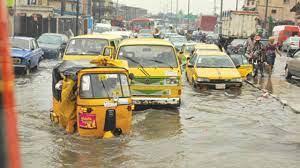 Ahead of the foreseen situation, the Lagos government is issuing a warning to inhabitants of some areas.
Alagbole, Meiran, Maidan, Kara, Isheri-Olowora, Agiliti, Owode-Onirin, Owode-Elede, Agboyi I, Agboyi II, Ajegunle, Itowolo, Majidun, Ibeshe, Baiyeku and Lekki-Ajah axis of the state.
The flood notice was issued on Sunday by Lekan Shodeinde, the Permanent Secretary, Office of Drainage Services and Water Resources, Lagos State Government.
Flood Control
He claimed that the updated 2023 Water Releases Forecast for Flood Control by the Ogun-Osun River Basin Authority served as the foundation for the new flood warning.
In September 2023, there will likely be a lot of rain due to the torrential downpours that are typically connected with the month and December each year throughout the Ogun River Basin, according to Shodeinde's projection.
The Oyan Dam and other tributaries' rising water levels were also mentioned by the Permanent Secretary as contributing causes to the likelihood of flooding at the Ogun River's downstream flow.
All of the rivers and tributaries that empty into the lagoon may experience tidal lock and flow back because of the high-water level that prevents discharges, resulting in flash flooding, the Lagos State Permanent Secretary further emphasised.
Flood Predictions And Warnings
He added that the National Emergency Management Agency (NEMA) and other pertinent agencies, such as Nigeria Metrological Services (NIMET), Nigeria Hydrological Services (NIHSA), and others, had also released flood predictions and warnings.
The Permanent Secretary advised residents and property owners in the specified areas to be prepared to migrate upland when the water level rises while expressing the state government's concern for the safety of the lives and properties of citizens.
Also Read: University Lecturer Dies In Abuja Flood
Another piece of advice given to Lagos residents was to be prepared to leave at the first hint of flooding.
Residents of other area across Lagos were also advised to be ready to move at the sign of flood.
Lagos CP Decorates 1,400 Newly-Promoted Officers