There is now an authentication of Nnamdi Kanu's handwritten note to Finland-based separatist agitator, Simon Ekpa. instructing IPOB to end "infamous and reckless sit-at-home."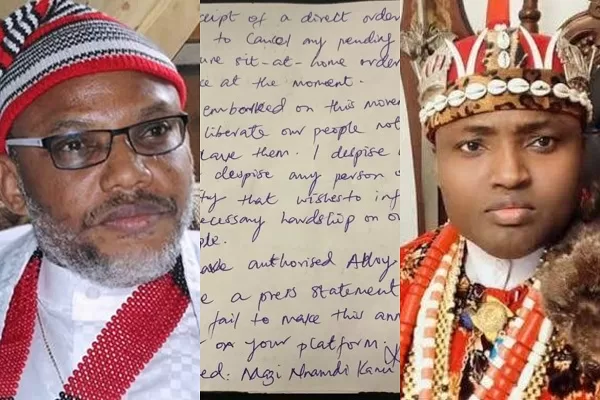 Authenticity Of Nnamdi Kanu's Letter
In a statement on Saturday by the spokesman for the Independent People Of Biafra (IPOB), Emma Powerful, the group said: "The global family and movement of the Indigenous People of Biafra (IPOB) confirms the authenticity of the handwritten note of our Leader penned to the Finland infiltrator and crime minister instructing him to end his infamous and reckless sit-at-homes.
"It is pertinent to make the message disassociating Mazi Nnamdi Kanu and IPOB from the senseless enforcement of sit-at-home public to avoid consequences on innocent citizens.
"Mazi Nnamdi Kanu, in his wisdom, communicated the message to the infiltrators through the right channel and a source they should trust.
"The claims that Mazi Nnamdi Kanu's handwritten note is fake is part of their mischief to continue in their contract to blackmail IPOB and Mazi Nnamdi Kanu with the violent enforcement of the infamous sit-at-homes used to terrorise our people.
"We understand that a power-drunk crime Minister with his inconsequential kangaroo defacto government in exile will ignore the order for the fear of deflating his over-bloated ego."
He explained that IPOB leadership initiated the Monday sit-at-home in protest of the abduction and rendition of their leader and to make sure that the Nigeria government arraigned Mazi Nnamdi Kanu openly, in a public court where they could see him.
People Also Read: Don't Repeat Buhari's Injustice, Release Nnamdi Kanu – Lawyer Ejimakor Tells Tinubu
"Our leader instructed that it should be suspended so that we don't torture our people.
"In line with the principle of command and control, we obeyed, and the sit-at-home order was suspended. However, infiltrators who don't believe in the principle of command and control, which is a core value of IPOB, ignored the order from our leader."
Nnamdi Kanu Writes To IPOB
Also, he said Mazi Nnamdi Kanu had sent messages through his visitors at the Department of State Security (DSS) detention camp to the infiltrators requesting that they stop the reckless sit-at-home several times, all to no avail.
"Senator Enyinnaya Abaraibe tabled this message in the red chamber of the Senate, what Mazi Nnamdi Kanu told them when they visited him in the DSS custody with Ohaneze Ndigbo delegates in the DSS headquarters Abuja, where he was illegally and unconstitutionally detained in DSS solitary confinement since June 2021."
He said every Biafran must understand the importance of the letter.