The acting Inspector-General of Police, IGP Kayode Egbetokan has ordered the immediate withdrawal of the Police Mobile Force (PMF) from 37 squadrons across the country.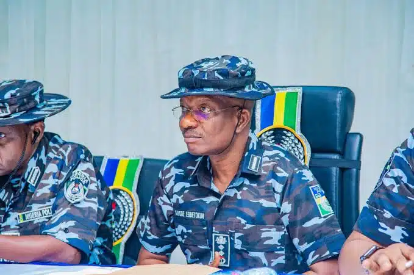 This comes a month after the acting IGP annouced plans to withdraw police personnel, specifically PMF from VIPs.
In a police signal dated July 26 obtained by The whistler, the commanders of the affected squadrons were given two weeks to execute the task.
The Signal
The signal, signed by a COMPOL Mobile – A senior officer from the rank of a Commissioner of Police (CP) upwards on behalf of the AIGPOL MOPOL, FHQ Abuja.
According to the wireless message issued at about 2:31 pm on Wednesday, the withdrawal is to enable the mobilisation of personnel for the specialised quick intervention squad proposed by the IGP to tackle growing concerns of insecurity.
The signal read partly:
"INGENPOL directs you mobilize 1000 able-bodied personal each within two weeks. Forward names mine (sic) for INGENPOL consideration. Ensure strict compliance please".
The affected Squadrons include:
MOPOLS: 1 Kaduna; 3 Enugu; 4 Ibadan; 5 Benin; 6 Maiduguri; 7 Sokoto; 8 Jos; 9 Kano; 10 Bauchi; 11 Calabar; 12 Minna; 13 Makurdi; 14 Yola; 15 Ilorin; 16 Abeokuta; 17 Akure; 18 Owerri and 19 Port-Harcourt.
Other Squadrons include MOBOLS:
26 Uyo; 27 Katsina; 28 Umuahia; 29 Awka; 30 Yenagoa; 31 Asaba; 32 Abakaliki; 33 Ado-Ekiti; 34 Gombe; 35 Dutse; 36 Birnin Kebbi; 37 Lokoja; 38 Akwanga; 39 Osogbo; 40 Jalingo; 41 Damaturu; 42 Gusau; 45 FHQ Abuja and 49 Epe.