Man City lavish Premier League title celebrations saw them rack up a 'drinks bill' worth £47,000, according to Jack Grealish's dad Kevin.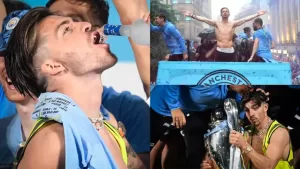 After winning the league and FA Cup earlier this month, Pep Guardiola's team completed an unprecedented treble on Saturday with a 1-0 victory over Inter in Istanbul. This was the club's first-ever Champions League trophy.
However, Jack Grealish's party animal father Kevin Grealish has disclosed that the club's fifth Premier League championship in the previous six seasons triggered similarly lavish celebrations.
Also, the Sky Blue heroes headed to the Tunnel Club, the Etihad's finest hospitality suite, as Kevin told The Mirror:
"To be fair to City, they've been brilliant with the celebrations and all the parties.
"There was one for winning the Premier League at the Tunnel Club a few weeks ago.
"However, the drinks bill came to £47,000, FORTY SEVEN GRAND! – I saw the receipt – and before you say it, that wasn't just Jack's drinks bill. He actually went home early that night!"
Grealish's post-Istanbul party, to which father Kevin mentions, was well known for him going all out, including standing on the team's parade bus shirtless and consuming a sizable chunk of Erling Haaland's champagne bottle.
Also Kevin has stated that parents became involved, including Haaland's father and former City player Alf-Inge.
Read more: Patrick Vieira Interested In Becoming USMNT Manager
He added: "All of the families get on really well and Alf, Haaland's old man, is a great bloke, really down to earth.
"He however came over to me and said have some of this cigar. I took a drag on it and I nearly coughed my guts up. I've not smoked for 28 years!"