It is shocking how far people can go to get power and money. Even people in the creative industry are not left out of rituals.  
An Ondo State e-based photographer and boutique owner, Franklin Akinyosuyi, has confessed to bathing with a human skull for a month to enhance his business.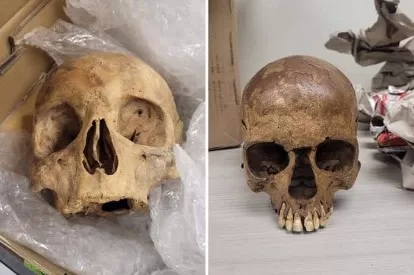 Akinyosuyi, 26, was arrested last week after his landlord reported to the police about possessing a human skull at his apartment in the Eleworo community area.
While on parade at the state police headquarters in Akure at the weekend, the suspect admitted that he had the human skull.
According to him, it was given to him by a herbalist his uncle introduced him to.
The Confession
"I am a photographer, and I own a boutique as well. It was last year that my uncle took me to a herbalist.
"I explained to him that my business wasn't moving well, so, he asked me to pay ₦200,000 to make a concoction for me, which I paid within three weeks.
"After he was done, he called me to come to pick it, and that was last year November.
The Assignment
"He directed that I should be bathing with the human skull every Thursday at precisely 1:00a.m.
"I used it for a month but didn't see any difference in my business. So, I had to call the herbalist and told him to refund my money.
"I also asked him to come and pick up the human skull as well, but he refused to come and pick it up, but he had started refunding my money because he already sent me ₦20,000.
"On that fateful day, I decided to go and throw it away, so I dropped it in my backyard.
"Unfortunately, I went out, and before I could return, my landlord's children saw it, informed their father, and they invited the police.
"After we were arrested, the herbalist claimed that he paid someone to get the human head."
Further Investigation
While parading the suspects, the spokesperson for the Police in the state, Mrs. Funmilayo Odunlami, said five persons were allegedly involved in the matter.
She said while three suspects had been arrested, two were still at large.
"Further interrogation and investigation led to the arrest of one Oyegoke Dare, an evangelist, who gave the skull and other fetish materials to the suspect.
Also, one Oyelade Sarafa, a herbalist, who also confessed to having helped in procuring the skull from one Asekun (a vigilante) in Ikirun, was also arrested.
You May Like: "I Warned Against 'Emilokan' Politics" – Bakare
Two other suspects mentioned in connection with the case are currently at large."