The self-acclaimed leader of the proscribed Indigenous People of Biafra, Simon Ekpa, says reports claiming Monday's sit-at-home order has been called off are false.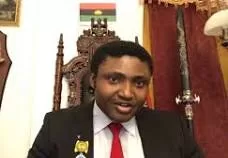 In a fresh video, he warned oil-producing companies to continue the sit-at-home order as Biafran leader Nnamdi Kanu was still in detention and their demands have not been met by the government.
Ekpa warned that disregarding his warning would mean they would not be able to produce or explore any oil in the Southeast region.
He made this known in a video shared on his X (formerly Twitter) handle on Monday.
Biafra Territory
"This particular message goes to the oil-producing companies operating within Biafra territory, from Shell down to the lowest.
"Our attention has been drawn to the fact that the expelled criminals in the Biafra movement are still collecting letters, and this letter is being circulated to oil companies in Biafra land that there is nothing like sitting at home.
"I want to put it as a warning to every oil-producing company in Biafra territory: the only government that is operational, functional, legit, and to which Biafra people are loyal is the Biafra Government in Exile, of which I am the prime minister.
The Demands Of Biafra Yet To Be Met 
"We have not called off any sit-at-home; we have not cancelled the sit-at-home. We have not gained our freedom.
"Mazi Nnamdi Kanu has not been released; the demands in the letter we wrote to you people have not been met.
"So, if anybody comes to you to tell you that the sit-at-home has been cancelled and you start operation, I swear with the spirit of those that died in the 60's that from that day on, you will not be able to produce any oil or explore any oil in Biafra.
Sit At Home Order Still Stands
"We are going to face all of you from A-Z because it is from the money you are projecting and injecting into the economy of Nigeria that they are using to buy arms to bombard us.
"So, we are going to stop them by stopping you. The Biafran government has not cancelled the sit-at-home.
"Sit at home continues until the demands in our letter are met.
Furthermore, Simon ordered oil-producing companies in the east to shut down production on Mondays.
Watch The Video Here