Indeed, what goes around comes around. Happie Boiz are now repentant and want to make amends for their wrongdoings to the OPM founder.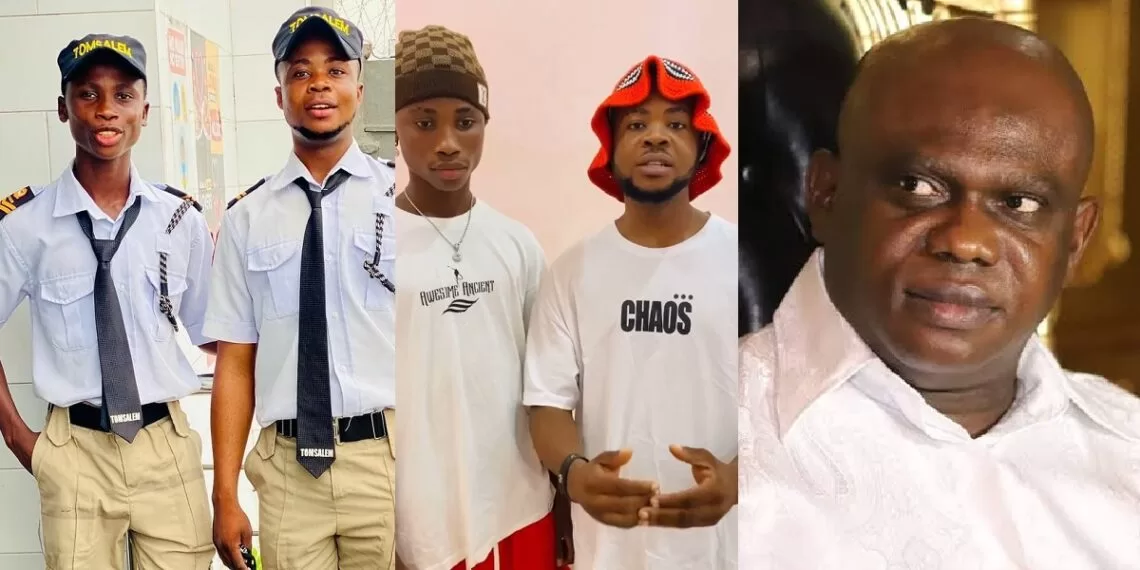 Happie Boiz, a group of ex-security guards who are now content makers, have turned to social media to ask OPM founder, Apostle Chibuzor Chinyere for forgiveness.
They became famous after a video of them losing their jobs for dancing happily on duty as security guards went viral.
It shot them up to high clouds, with the OPM founder funding a scholarship for them to study in Cyprus.
End Of Scholarship
However, there was a little hitch in fulfilling the financial obligations from the pastor and the duo called him out for it.
Following the incident, they started making snide remarks about the clergyman and throwing shades at him on social media since he stopped their scholarship over economic reasons.
They rejected his offer to pay for their return flight to Nigeria so they may continue their education at any university of their choice there or in Benin Republic.
Happie Boiz also remained adamant in their decision to remain in Cyprus and found a way to fend for themselves.
They even took dancing gigs at clubs for a stipend.
Surprisingly, things took another turn for them, as the young men went online today to tender an apology to the clergyman and Nigerians at large for their actions.
Happie Boiz Begs
They pleaded with the cleric to have pity on them because things were not going well for them in Cyprus.
They also said they were willing to return to Nigeria to apologise to the pastor.
You Should Read: VIDEO: Apostle Chinyere Hospitalised After Collapsing At Airport
"We are here to say sorry to Nigerians, most especially Baba OPM worldwide.
"Please, forgive us. Things are not going well for us. We need your blessings."
They also vowed not to speak ill about the pastor again and sought his blessings so that things would pick up for them again.
Watch The Video Here