Yahaya Bello, the outgoing governor of Kogi state, like Balam, comes with a curse in his mind and mouth for those in his cabinet who didn't support him.
He said the commissioners who deserted him during the state's governorship election on November 11, will not go unpunished.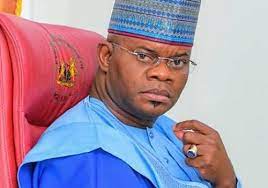 Usman Ododo, the candidate for the All Progressives Congressive (APC), won the gubernatorial contest, defeating Dino Melaye of the People's Democratic Party (PDP) and Muri Ajaka of the Social Democratic Party (SDP).
On Saturday, November 18, behind closed doors with APC stakeholders in Lokoja, Bello vented his resentment at the cabinet members.
He accused many of his loyalists of abandoning him by selecting Ododo as his successor in spite of everything he had done for them.
Yahaya Bello: Enemies Within
Bello described the allies as 'enemies within', plotting with the opposition parties to pull him down.
"All of those disgruntled elements" moved against him "after everything I did for them.
"I was fighting known enemies while enemies within were pulling me down. God punish you all.
"They said if it can't be me, then it can't be Ododo. Yet, they were busy conniving and conspiring with the opposition.
"They call themselves leaders but were misleading the people.
"Shame on you all," he said.
Also, Bello warned that if he ever hears the "leaders" threaten any of their subordinates, he would deal with them severely.
The Governor pointed a direct finger at a Senator from the state whom he said was "wrecked" by his brothers before he (Governor Bello) revived him from his alleged financial bankruptcy.
Also Read: Outrage As Ododo Kneels To Present Certificate Of Return To Yahaya Bello (Video)
"Today, you are a second-term serving senator.
"You were laughing with us while you went behind to text opposition messages to hinder our party from having 25% in some local governments," he added.