Former U.S. President Donald Trump has reignited his feud with Megan Rapinoe following the USWNT's shock defeat at the Women's World Cup.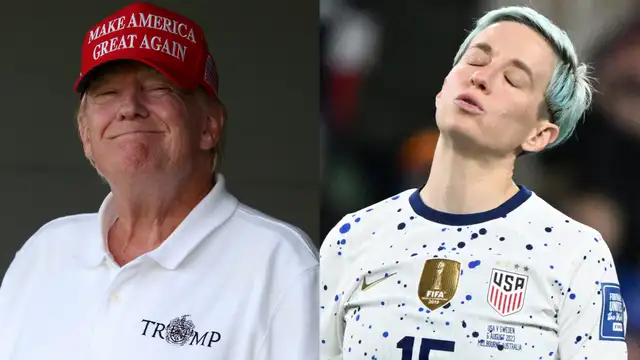 The United States saw the defence of their global crown come to a dramatic end on Sunday when coming unstuck in a penalty shootout with Sweden.
Rapinoe, in the last game of her illustrious international career, was among those to miss from the spot for the States.
Trump – as part of a social media rant that also saw him take aim at a federal judge and political rivals – was quick to point out that Rapinoe, who he has butted heads with in the past, had let her country down.
Trump said, during his epic rant, that America's defeat was "fully emblematic of what is happening to our once great Nation under Crooked Joe Biden".
He added "WOKE EQUALS FAILURE" before turning his attention to Rapinoe and saying: "Nice shot Megan, the USA is going to Hell!!!"
Benny Johnson, the chief creative officer at Turning Point USA, also took aim at Rapinoe when posting on Twitter:
"Woke U.S. Women's Soccer Humiliation. After winning back-to-back World Cups the heavily favored Team USA has been eliminated by Sweden in the [Round of 16].
"Team USA's downfall was delivered by anti-America, anti-woman activist Megan Rapinoe's embarrassing free [penalty] kick here."
Read more: Lionel Messi Makes Opponents See Ghosts!
Rapinoe, who earned 202 caps for the USWNT and walks away as a modern-day icon, responded by saying: "It's a real sad dig into an old bag. I'm just like, 'You're rooting for people to do bad?' Yikes".
Digital World: Nigerians Performance On Digital Platform