A census of those wanting to volunteer for non-military positions in defense against a potential intervention by West African powers was halted on Saturday by the junta's supporters, who claimed they were overrun by the sheer volume of volunteers.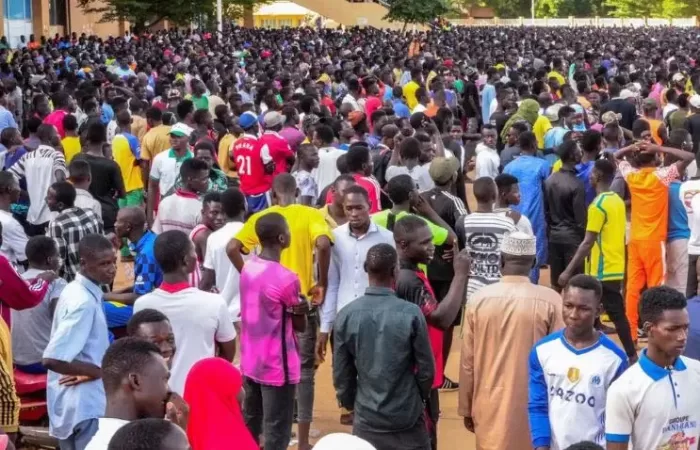 A sign of the strong support the junta has in some circles is the fact that thousands of people, mostly young men, gathered outside a stadium in the capital Niamey hours before the event was scheduled to begin.
The junta has defied international pressure to step down since ousting President Mohamed Bazoum on July 26.
"In all our calculations and our understandings, we never thought we could mobilise (this number of people)," said Younoussa Hima, co-organiser of the initiative dubbed "The Mobilisation of Young People for the Fatherland".
"So it is really difficult for us today to do this work. That is what made us halt this census," Hima said by the stadium after the crowds dispersed.
The Economic Community of West African States (ECOWAS), the largest regional organization in West Africa, announced on Friday that it has decided on an unnamed "D-Day" for a potential military incursion should diplomatic attempts fail.
This escalation might further destabilize the already conflict-torn and poor region.
People Also Read:ECOWAS Delegation Lands In Niger Republic For Another Round Of Dialogue 
The Niamey recruitment drive's organizers said that their goal was not to enlist volunteers for the army but rather to compile a list of people who would be willing to give their professional expertise in the event of an ECOWAS invasion.
But many of those in the stadium's vicinity seemed eager for conflict.
Possible attack
"They called on the youth to respond to a possible attack on our soil. And we are ready for any attack," said blogger Tahirou Seydou Abdoul Nassirou.
"My life, I give my life to my country," he said, wiping a tear from his eye as other young men nodded and cheered his words.
An ECOWAS delegation flew into Niamey on Saturday to hold talks with the junta, showing that efforts to resolve the standoff peacefully are still underway.
It has been difficult to gauge the extent of junta support throughout Niger, but thousands of people cheered the coup leaders' promise to oppose the bloc during a previous rally held at the stadium on August 11.
Kader Haliou, 35, a spectator, claimed that there were other reasons for people to support the junta besides patriotism.
"The majority of the young visitors are jobless. Given the inactivity and lack of work, becoming registered is a blessing for us, the man stated.
The coup and the ensuing international sanctions have increased strain on the already-fragile Nigerian economy. With more than 40% of the population living in extreme poverty, it is one of the least developed nations in the world.
ECOWAS Tightens Sanctions On Niger Amidst Negotiation Plan