Carlo Ancelotti was left impressed by Jude Bellingham, as the English midfielder made his Real Madrid debut on Sunday.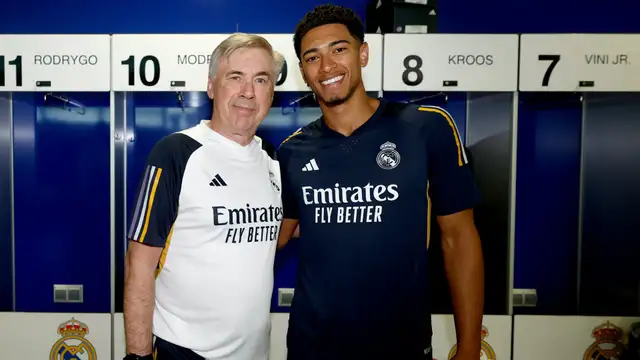 Los Blancos came back from a two-goal deficit to beat AC Milan 3-2 in a pre-season friendly at the Rose Bowl Stadium in California.
While manager Carlo Ancelotti acknowledged that there are some aspects of his team's game that need to be bettered before the season starts, he was full of praise for new signing, Jude Bellingham.
Speaking to reporters after the game, Ancelotti said: "I was really impressed with Bellingham.
"We have things we have to alter, like the way we played out from the back.
"We tried to play more through the middle than out wide in order to make the most of space between the lines.
"Bellingham played very well and the team has to get used to his quality, which is unbelievable.
"His arrival into the box is hugely important for the team.
"I like the system but we saw a few mistakes. We didn't play the ball out as we should have but I was pleased with the game overall."
Complete Midfielder
The Real Madrid boss added: "He's a fantastic player, very important for us because he's a complete midfielder and he brings real pace and intensity to the game.
"He moves extremely well without the ball and he's different to the other midfielders we have.
"Also, he makes the most of the free space and adds another dimension to this squad, which is fantastic."
Read more: Jurgen Klopp Opens Up On Future Plans
As per journalist Mario Cortegana, Ancelotti could consider changing the formation of the team to 4-4-2 this season to slot in Bellingham in the number 10 position with Eduardo Camavinga, Federico Valverde and Luka Modric accompanying him in midfield.
DIFFERENCE BETWEEN PURE WATER AND SACHET WATER: IT'S FUNNY HOW PEOPLE THINK