Air travelers have received full assurance of maximum safety and security during this year's Eid-El Kabir Festival from the operators of the Murtala Muhammed Airport Terminal Two (MMA2).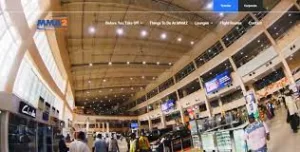 Bi-Courtney Aviation Services Limited (BASL), operators of Murtala Muhammed Airport Terminal Two (MMA2), has assured travelers and users of the terminal of maximum safety and security.
Read Also: Sirika: Aviation Can Help Combat Crime, Insecurity
BASL Introduces On-Time-Performance (OTP)
BASL said it has invested heavily in infrastructure maintenance, and human capital development of its workforce.
According to a statement credited to BASL, the spokesperson for the company, Oluwatosin Onalaja, while felicitating with Muslims assured them of safety within and around the airport facility during and after the festivity.
Onalaja said: "BASL, is set to introduce On-Time-Performance (OTP), an initiative that will promote accountability and reward promptness for the airlines' activities.
"This is to promote and sustain the safety and security of lives and property within and around the airport terminal.
"On safety and security, we have a very large Aviation Security Team, who we continue to train and retrain.
"To achieve success in this space, modern infrastructure is key. Consistent maintenance is yet another face that must be heavily invested in," she said
Security Drills And Operational Support
"In addition to professional training, we will, together with various law enforcement agencies like the Police, the Air Force, and the DSS hold a joint drilling and training.
"BASL will keep providing additional operational support to all the airlines and other statutory regulatory agencies operating within the MMA2 to ease the burdens of flight delays and cancellations."
Onalaja explained that an airline was considered OTP Compliant when it is able to operate its scheduled flights timeously.
Read Also: Aviation Workers Strike Unnecessary -Aviation Ministry
He added that "a flight is considered on time when it arrives and/or departs within 15 minutes of the scheduled time. Canceled flights count as not-on-time flights.
"The OTP is calculated based only on flights that operate within the scheduled arrival and/or departure time, with minimal or zero cancellations.
"At the end of the day, the OTP-compliant airlines will be appropriately recognised and appreciated, to engender a culture of on-time performance among airlines at the MMA2 terminal," he added.