It appears Atiku Abubakar is not willing to accept defeat from President Tinubu from the 2023 presidential elections.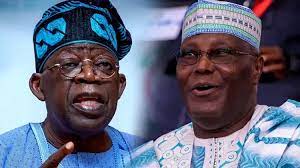 The presidential candidate of the Peoples Democratic Party (PDP), Atiku Abubakar, has filed a lawsuit against President Bola Tinubu in the United States of America.
He claims President Bola Ahmed Tinubu's academic credentials are false.
According to reports, Tinubu's academic records from elementary school through university are being demanded as part of the case, which was filed in the Northern District of Illinois' District Court.
Atiku's spokesperson, Phrank Shaibu, said that the lawsuit against Tinubu was "just the beginning" of Atiku's challenge to his presidency".
Fell From The Sky
He said: "Atiku Abubakar only withdrew the case before a Circuit Court of Cook County, Illinois County, United States of America because he is pursuing the same matter in a higher court and he wanted to avoid abuse of court processes".
Have You Read: Heavens Won't Fall If Tinubu Is Removed As President – Atiku
"In recent weeks, Nigerians have been watching the ongoing ministerial screening at the Senate. Nominees have been made to reveal their primary, secondary, and university history.
"Some of the ministerial nominees were even classmates with the senators screening them.
"However, the man who nominated them has no educational history.
"He has no primary school, secondary school, or university classmates.
"This is because he has no classmates. He fell from the sky".
Is Tinubu's Approach To The Niger Republic Coup The Right One?