One would think Atiku and the other 2023 presidential candidate from the opposition party would have moved on since the results were announced.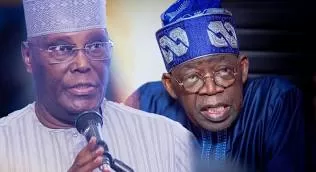 However, they seem not to back down in their claims that President Bola Tinubu is not the rightful winner of the 2023 presidential election.
Petition To The Tribunal
Abubakar Atiku is the Peoples Democratic Party's (PDP) nominee for president, has begged the Presidential Election Petition Tribunal to muster the courage to fairly consider his petition to overturn Ahmed Bola Tinubu's designation as the winner of the election of bruary 25.
On Sunday, Atiku made it clear that, in contrast to Tinubu's threat, the sky would not fall if Tinubu were to be removed from office as president of Nigeria by the Tribunal due to what he called extensive electoral fraud that put him there.
Heavens Won't Fall
Atiku criticised Tinubu's threat in his final written statement, calling it a futile tactic to deter the Tribunal from upholding justice in the petition challenging Tinubu's election.
The former Vice President recalled the brave stance taken by the Supreme Court in the case of Rotimi Amaechi.
He recounted where the high court ruled that when justice is carried out in the way required by law, heavens won't fall.
This was in the final written speech provided by his main attorney, Chris Uche, whos is a Senior Advocate of Nigeria.
Will Justice Be Served?
The Supreme Court judge quoted in the cited authority, Justice George Adesola Oguntade, stated: "I must do justice even if the heavens fall.
Of course, it is true that the heavens remain still and at peace after justice has been served.
In the same way, Atiku requested that the Tribunal use the bravery demonstrated in the previous Supreme Court decision to dismiss his petition against Tinubu despite the prospect of massive pandemonium.
Moral Rights Lost For Presidency?
By ignoring the threat of enormous mayhem posed by Tinubu to thwart justice, Atiku requested that the Tribunal use the boldness demonstrated in the last Supreme Court judgement to resolve his suit against Tinubu.
After admitting to a punitive forfeiture of $406,000 in a drug and money laundering-related incident.
Have You Read: Tribunal: Peter Obi Rolls Out More Evidence Against Tinubu
The former vice president said that Tinubu had forfeited his moral and legal right to hold the office of president of the Federal Republic of Nigeria.
Additionally, Tinubu was declared the winner of the election illegally, according to Atiku, who accused the Independent National Electoral Commission (INEC) of corruptly altering the election results in Tinubu's favour.
What Punishment Do You Think Is Suitable For False Rape Allegations?