The Academic Staff Union of Universities (ASUU) has publicly rejected the Core Curriculum Minimum Academic Standards (CCMAS) set by the National Universities Commission (NUC).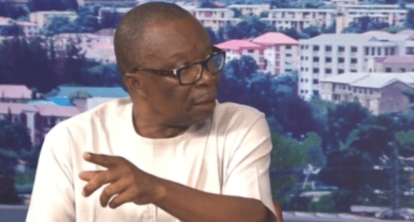 According to the union, the standards pose threats to the quality of university education and erode the power of university Senates.
ASUU's national president, Professor Emmanuel Osodeke, spoke via a statement on Friday.
He expressed concerns over NUC's control of the majority of CCMAS contents, calling it a "nightmare".
He explained that it was alarming that NUC had 70% influence over the CCMAS, leaving university Senates to work on just 30%.
Shortcomings And Gross Inadequacies
The statement further highlighted the "numerous shortcomings and gross inadequacies" of the CCMAS documents.
he says it is causing growing apprehension within the academic community.
The statement states: "ASUU is not unaware that setting academic standards and assuring quality in the NUS is within the remit of the NUC.
"Section 10(1) of the Education (National Minimum Standards and Establishment of Institutions) Act, Cap E3, Laws of the Federation of Nigeria 2004, enjoins the NUC to lay down the minimum standards for all universities and other degree awarding institutions in the Federation and conduct the accreditation of their degrees and other academic awards.
"However, the process of generating the standard is as important (if not more important) than what is produced as "minimum standards".
Hazy Procedures
"In this instance, the NUC has recently, through some hazy procedures, churned out CCMAS documents containing 70% curricular contents in 17 academic fields with little or no input from the universities".
The academic disciplines covered are:
(i) Administration and Management
(ii) Agriculture
(iii) Allied Health Sciences
(iv) Architecture
(v) Arts
(vi) Basic Medical Sciences
(vii) Computing
(viii) Communication and Media Studies
(ix) Education
(x) Engineering and Technology
(xi) Environmental Sciences
(xii) Law
(xiii) Medicine and Dentistry
(xiv) Pharmaceutical Science
(xv) Sciences
(xvi) Social Sciences
(xvii) Veterinary Medicine.
It stressed that many university administrators, though dissatisfied, were shying away from making public comments on CCMAS.
Proposed Innovations
The statement revealed that some university Senates did not hide their displeasure with the ongoing efforts to impose CCMAS on Nigerian universities by the NUC.
"The CCMAS is a nightmarish model of curriculum reengineering. It is an aberration to the Nigerian University System. The CCMAS documents are flawed both in process and in content.
"There is no basis for the 70% "untouchable CCMAS," which cannot stand the test of critical scrutiny of university Senates."
However, it suggested that the "NUC should encourage universities, as currently being done by the University of Ibadan, to propose innovations for the review of their programmes.
Also Read: VIDEO: Apostle Chinyere Hospitalised After Collapsing At Airport
Proposals from across universities should then be sieved and synthesised by more competent expert teams to review the existing BMAS documents and/or create new ones as appropriate.
"The difference here is the bottom-up approach, unlike the top-bottom or take-it-or-leave-it model of the CCMAS."