An unrepentant auto thief named Sunday Dosunmu was nabbed once more by Ogun State police officers for performing the same act that landed him in jail.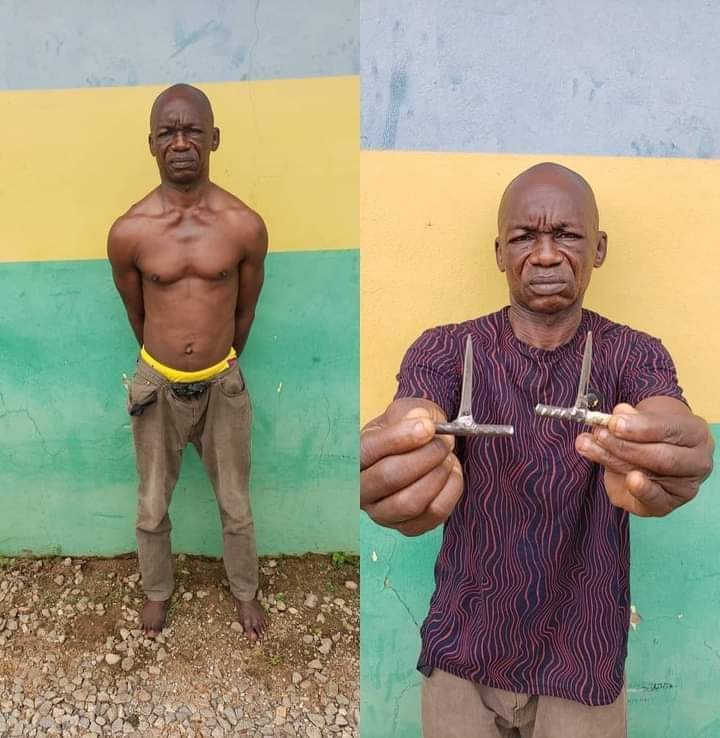 The suspect was previously apprehended by Divisional Police Officer Kemta CSP Adeniyi Adekunle on September 17, 2022, at Olorunsogo, Ogun State.
A former prisoner who now advocates equipping of recreational centers to reform prisoners said prisons in Nigeria is a place where hardened criminals are trained.
This statement played out again as the suspect was caught attempting to steal a car weeks after his release from prison.
It is the same act that he was previously arrested for.
This was made known in a statement released by the command's spokesperson, SP Omolola Odutola.
The Fake Master Key Strategy
According to Odutola, Sunday was once again captured by local youths using fake master keys to unlock certain cars in that region on August 12 at around 1930 hrs. along Eleme Ogun State.
"People who saw him raised the alarm which made him take to flight, but how far can a 53yrs old man run?
"The young guys gave him a hot chase and caught up with him.
"They later alerted the police team that visited. Afterwards, he was taken away by the police.
"Two fabricated iron master keys were found in his possession and obviously it is part of the instrument used to unlock unsuspecting car owners' vehicles, he gets into the vehicle and drives the car away."
Car Snatcher To Face Prosecution
According to the police, a plea of double jeopardy will not suffice.
"Iif there was no acquittal on a thorough investigation,, he may have been released on want of evidence.
Also Read: How I Bathed With Human Skull To Enhance My Business – Ondo Photographer Confesses
"However this time, the Police will prosecute him to ensure that justice is served since he has not repented irrespective of his age."
The police spokesperson mentioned that the state Commissioner of Police has been briefed and he has directed that thorough evidences are brought forward to the Court so as to ensure Sunday Dosunmu learns his lessons.
How Would You Judge This?