The incident in Adamawa will make you wonder if this is a case of desperation caused by the current economic situation on citizens.  
On the flip side, could it be a deliberate operation by hoodlums on unsuspecting warehouse owners in Adamawa.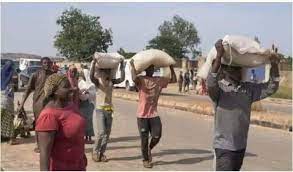 Now, everyone, both the good and the bad, will share from the pains that come with decision to commit crime.
On Sunday evening, the Governor of Adamawa State, Ahmadu Umaru Fintiri declared a 24-hour curfew shortly after some private warehouses in the state were looted.
A video shared online showed some people carting away grains and items from warehouses they broke into.
The Governor's Chief Press secretary, Humwashi Wonosikou announced the curfew.
Wonosikou said there would be no movement throughout the state during the curfew and anyone found not complying would be arrested.
He made this announcement in a statement. noting that the curfew was necessary due to the activities of hoodlums in Adamawa.
"The Governor of Adamawa State, the Rt. Hon. Ahmadu Umaru Fintiri, has declared a 24-hour curfew on the state, effective immediately on Sunday, July 30, 2023.
"Governor Fintiri said the curfew followed the dangerous dimension the activities of hoodlums had assumed across the state capital.
"They attacked people with machetes and broke into business premises and homes, carting away property.
"With the curfew imposed, there will be no movement throughout the state.
People Also Read: Adamawa: Binani Sues INEC For Cancelling Her Declaration
"Rt. Hon. Fintiri said only those on essential duties with valid identification would be permitted to move around during the period of the curfew.
"The Governor is appealing to citizens and residents of the state to comply with the directive adding that any person found contravening the order would be arrested and made to face the wrath of the law."
Hear What President Tinubu Has To Say About Hardship Faced By Nigerians.