With Inter Miami on the ropes, Lionel Messi showcased yet again why he is called the Greatest of All Time with a top tier free-kick.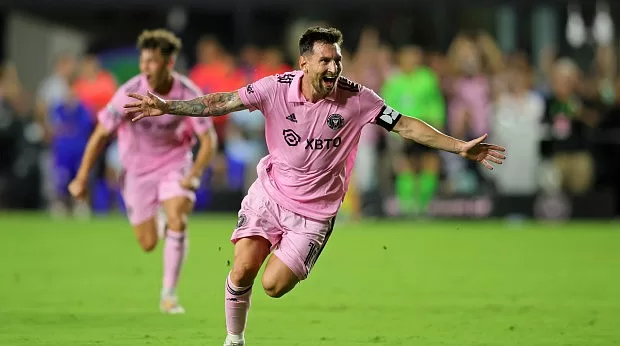 With Inter Miami down 4-3, Messi stepped up to the plate after Benjamin Cremaschi won a free-kick just outside the box.
The Argentine managed to convert the free-kick to take the game to penalties and win qualification to the quarter-finals.
Team boss Tata Martino praised the World Cup winner's ability after the game, calling him 'the best player in the world'.
"It is true that we count on the best player in the world," said Martino, "and you can't ignore that.
"Many times, there is a free kick in that sector and only with him, and it happens that you have the sensation that he is going to score," Tata Martino added of the equaliser.
"A free kick is not something that is going to end up being a goal – 90% of the time, it is not a goal.
"But when he has it, it's the opposite: a 10% chance that it won't and a 90% chance that it is. So we have to take advantage of that."
This was Messi's second free-kick goal in an Inter Miami jersey, having scored one on his debut against Cruz Azul.
Read more: Ousmane Dembele: See Why He Is Leaving Barcelona
While Inter Miami have made it to the quarter-finals, Martino will be very keen to iron out the loads of mistakes his team made while also trying to make sure their morale stays as high as possible.
Digital World: Nigerians Performance On Digital Platform