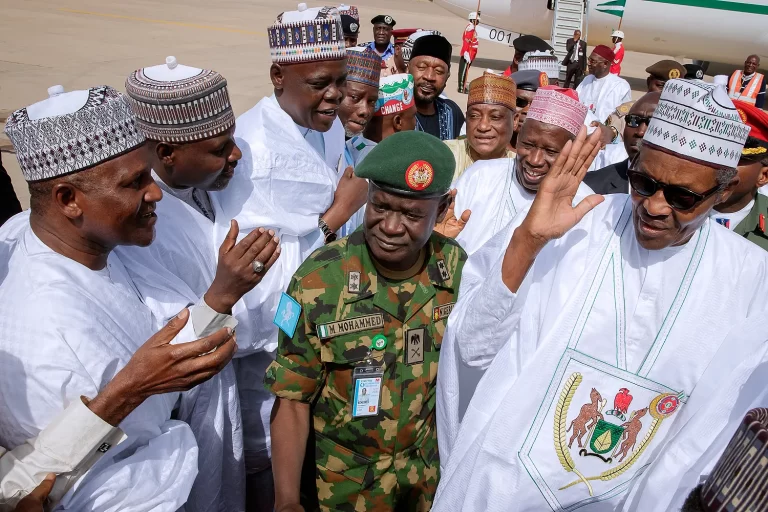 The Nigeria Police Force, Kano State Command has countered reports of attack on President Muhammadu Buhari and his convoy in the state.
READ ALSO: Fuel Scarcity: Gov. Obaseki Breaks Silence Over Protest In Edo
Recall that a viral video surfaced on Monday capturing moment angry youths in the state, attacked the advance convoy of President Buhari and helicopter during an official visit to the state.
According to the video, the angry youths ignored the presence of the heavy security mounted on the routes leading to Ahmadu Bello way where President Buhari was to launch one of the projects.
However, the Kano Police Command spokesman, SP Abdullahi Haruna in a chat with The Punch, countered the claims of an attack on President Buhari as false and unsubstantiated.
Haruna said the only violence recorded in the state was when a Kano Road Traffic Agency (KAROTA) official stabbed a commercial tricycle operator and the situation resulted in chaos.
He said the incident did not go down well with youths within the vicinity, who mobilised to descend on any KAROTA personnel sighted, leading to the hauling of stones on the traffic officials, who fled the scene to safety.
READ ALSO: Akwa Ibom: Tinubu In New Gaffe Accuses Atiku Of Selling Assets As 'Senate President' (Video)
The Police spokesman said President Buhari retired to the Government House after the inauguration of projects as of the time the rampage was ongoing.
Haruna, therefore, vehemently denied that nobody or group attacked the President's convoy, adding that the visit was peaceful and hitch-free as a result of the huge combined security presence.