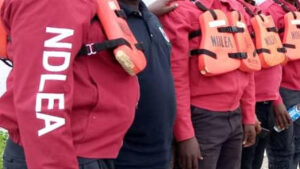 Operatives of the National Drug Law Enforcement Agency (NDLEA), in collaboration with operatives of the Economic and Financial Crimes Commission (EFCC), on Thursday, busted a criminal syndicate involved in the trafficking of fake United States dollar notes and recovered a total of $269,000 counterfeit at Oniru in the Shoprite area of Lekki, Lagos State.
The operation was carried out following intelligence received from the Drug Enforcement Administration of the United States, and three suspects have bssn arrested.
The NDLEA operatives also raided a cluster of cannabis syndicates operating in the Opuje forests in Edo State, where massive warehouses and tents storing over 317,417kg of the psychoactive substance were destroyed and set ablaze, while four suspects were arrested in a two-day operation.
The Director, Media and Advocacy, NDLEA, Femi Babafemi, revealed this on Saturday in a statement.
According to Babafemi, a police impersonator identified as Omoruan Theophilus, 37, who paraded as a police inspector to convey the drugs from the forests to the cities, and three others Aigberuan Jacob, 42, Ekeinde Zaza, 53, and Naomi Ohiewere, 42, were arrested in connection with the drugs.
READ ALSO: PVC Collection: Akeredolu Declares Work-Free Day For Civil Servants
He noted that the Opuje community in Owan West Local Government Area, Edo State, is notorious for cannabis cultivation, adding that cartels invest huge resources in the area, cutting down economic trees of the forest reserves and cultivating cannabis on a large scale, running into hundreds of hectares.
He added that after harvest, they build warehouses inside the forest reserves and employ the services of armed youths to protect the warehouses 24/7.
Babafemi said, "Accessing the forest on Wednesday, January 18, took hours of trekking by hundreds of NDLEA operatives who were ambushed with bonfire by armed youths on their way out of the community the following day but were able to successfully leave the area without any casualty except the heavy investment losses inflicted on the cartels.
"While commending all the officers involved in the two special operations in Edo and Lagos for
their professionalism and commitment, Marwa has since directed that the fake dollars recovered and the suspects arrested in the Lekki operation be immediately transferred to the EFCC for possible prosecution."