The Nigeria Centre for Disease Control (NCDC) on Friday confirmed 10 new death to Coronavirus (COVID-19) outbreak in the country, bringing the total number of death to 68.
The NCDC also said that 238 new cases have been confirmed in the country, bringing the total number of infection to the virus to 2,170.
The agency, on its Twitter handle on Friday, said that for the second consecutive day, Kano recorded the highest number of cases in the country with 92 infections.
READ ALSO: AIT maybe shutdown as Dokpesi, wife, 6 others test positive to COVID-19
"On the 1st of May 2020, 238 new confirmed cases and ten deaths were recorded in Nigeria. No new state has reported a case in the last 24 hours.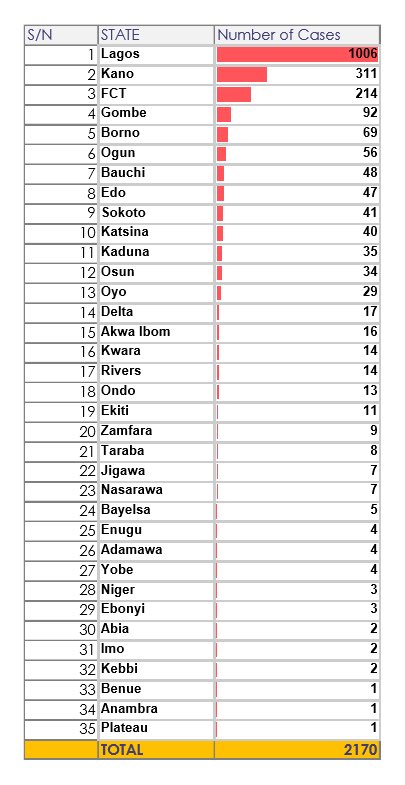 "Till date, 2170 cases have been confirmed, 351 cases have been discharged and 68 deaths have been recorded in 34 states and the Federal Capital Territory
"The 238 new cases are reported from twenty-two states- Kano (92), FCT (36), Lagos (30), Gombe (16), Bauchi (10), Delta (8), Oyo (6), Zamfara (5), Sokoto (5), Ondo (4), Nasarawa (4), Kwara (3), Edo (3), Ekiti (3), Borno (3), Yobe (3), Adamawa (2), Niger (1), Imo (1), Ebonyi (1), Rivers (1), Enugu (1)," NCDC said.
According to the agency, as at 11;00pm May 1, 2020 Nigeria has 1,751 Active Cases of COVID-19 and 351 Treated and Discharged.
iBrandTV reports that the number of infections has risen due to the increased capacity for testing across the country.