One of the facts of life is that when a criminal's mission fails, his life, and not his weapons, is most important to him.
This article is about what the police are doing to check activities of bandits and how they recovered some ammunition in Kaduna. They belong to bike-riding bandits.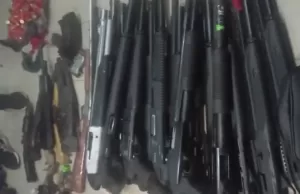 The Police Command in Kaduna is one with a huge task, as they need to bring to an end, incessant attacks mostly on residents in the southern part of the state.
Often, they patrol communities, looking out for the bandits who often raise communities, leaving people maimed and dead.
It was on one of such patrol that the police saw two men on a motorcycle acting strange.
In a brief to reports on Thursday, the spokesman for the police in the state, DSP Muhammad Jalige, said the incident occurred on July 18.
According to him, operatives of the Command on routine patrol along Hukunyi-Danja road, sighted two persons riding a motorcycle in a very suspicious manner.
The situation prompted the patrol team to pursue the riders.
Ammunition Inn Kaduna
Seeing that the police were after them,  they abandoned their mission and ran into the nearby forest.
While navigating the tiny road, their luggage fell off the bike.
See Also: Tinubu's Ministerial List Finally Arrives Senate
"The luggage was searched and two AK-47 riffles loaded with 30 rounds of live ammunition each were recovered.
"The patrol team combed the entire area throughout the night in order to guarantee the safety of the road users and the adjoining communities," he said.
Furthermore, the Commissioner of Police in the state, Musa Garba, commended the personnel for their dedication to duty.
He requested that they should not relent in ensuring the success of the exclusive policing strategy to foster a new security dawn in the Kaduna State.