Justice Ekwo earlier said people had been sending him unsolicited text messages before now and told the EFCC to look into it.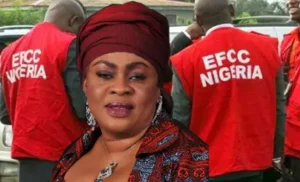 The federal high court in Abuja appears to be tired of the theatrics surrounding a case against former aviation minister, Stella Oduah.
The judge, Justice Inyang Ekwo, earlier claimed that some people had begun to send him unsolicited text messages to seek favours in the matter.
This has now led Ekwo to demand that the matter be handed over to the Attorney-General of the Federation to prosecute.
₦5 Billion Suit
The case involves a ₦5 billion suit the Economic and Financial Crimes Commission, EFCC, preferred against Oduah and others after their arraignment.
Read More: Court Hands Lawyer To EFCC For Filing Suit Against Stella Oduah
The defendants entered a non-guilty plea, but Ekwo said the order was necessary in view of the controversy the case had generated since it was instituted.
Privacy Breach
On June 15, Ekwo ordered the EFCC to fish out persons behind breaching his privacy through text messages on his phone and another group that petitioned the Chief Justice of Nigeria regarding the ongoing suit.
Ekwo also directed the deputy chief registrar of the FHC in charge of Litigation to liaise with the Corporate Affairs Commission, CAC, to obtain the identities of the promoters of the organisation for the purpose of bringing them to court, saying the sanctity of the court must be maintained.
The development had stalled the arraignment of the defendants, as the judge insisted that the anti-graft agency must produce the people behind such action in court.
He then adjourned the matter until Monday, July 17.
On Monday, counsel for the EFCC, Hassan Liman, SAN, prayed the court to allow the defendants to take their plea, having filed the charge against them since Dec. 17, 2020. Ekwo adjourned the matter till October 17, 2023, for trial.