One of the reasons many Nigerians rejected the candidacy of Bola Tinubu during the 2023 presidential election was because, according to them, his emergence as president will fuel the morale of touts in Nigeria.
Some of their claims are gradually showing up, except the President tames this group of persons.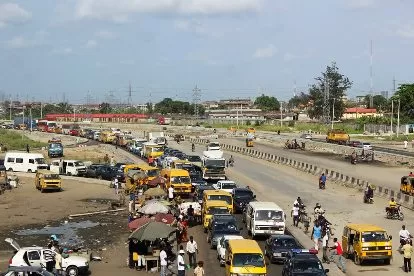 Indeed, this school of thought is not far from the truth. Lagos residents can understand better, as the state is the den touts in Nigeria.
Things got worse after the victory of Tinubu, these touts became more powerful than ever.
One had even killed an innocent girl in Agege during celebrations of Tinubu's emergence.
Read The Article: Lagos Lady Shot Dead By Hoodlum Celebrating Party's Victory
The Clash
Now and again, at least four people were killed on Tuesday morning in a clash between some officials of the Lagos Task Force, tanker drivers, and touts at Mile 2.
The fight happened at the Mile 2- Oshodi bridge today, triggering a barricade of the bridge and forcing motorists to seek alternate routes.
According to Vanguard, it received a distress call from a stranded passerby who identified himself as Mr Richard Igbe.
The caller explained that there was a fight on top of the Mile 2-Oshodi bridge.
According to Igbe, they had barricaded the bridge blocking the access road.
Mile 2 On Fire
Although the actual cause of the fight is yet to be ascertained, at the time of the call, Igbe claimed that four persons were dead from gunshots.
You May Like: Lagos Residents Gets Fresh Flood Alert
"Mile 2 is on fire; both the task force, tanker drivers, and touts are fighting seriously.
"I don't know what caused the fight, but I am just hiding at Fagbems Filling station at Mile 2 and watching.
"I am going to work, but I am stranded as they barricade the whole of Mile 2 that nobody will pass", the eyewitness said.