The just appointed governor of the Central Bank of Nigeria (CBN) Dr. Olayemi Cardoso, is a man on a mission.
He has vowed that he and his team will ensure that the CBN regains public trust.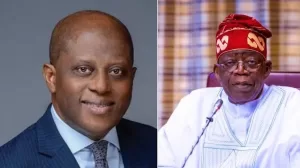 The governor of the Central Bank of Nigeria (CBN), Dr. Olayemi Cardoso, has shown gratitude to President Bola Tinubu, for his nomination.
President Tinubu sent the name of Dr. Cardoso and four others to the Senate for confirmation as CBN Governor and deputies.
Cardoso, also thanked the Senate President, Godswill Akpabio, and all members of the upper chamber for confirming his appointment.
Have You Read:  New CBN Governor Refuses To Be Politically Manipulated
The new CBN boss, made this known in a post on his X platform on Wednesday.
He wrote: "On Tuesday, the senate confirmed me as the substantive CBN governor."
The upper chamber also confirmed Emem Nnana Usoro, Muhammad Sani Abdullahi Dattijo, Philip Ikeazor and Bala Bello, as deputy governors of the CBN.
"I would like to thank President Bola Tinubu for the nomination and the Senate for the confirmation of my appointment.
Lastly, I would like to thank my family and friends for their unwavering support.
You May Also Like: New CBN Governor Must Address Forex Crisis – CPPE
"I am humbled to have been appointed as the Governor of the Central Bank of Nigeria.
The challenges we face are enormous."
However, Cardoso expressed confidence that with the support of the newly appointed deputy governors and the support of all Nigerians and relevant stakeholders,
He promised that the new leadership of the CBN, will work to regain the trust and integrity of the apex bank.