The Nigeria Centre for Disease Control, NCDC, on Sunday confirmed 248 new cases of Coronavirus (COVID-19), bringing the total number of infections as a result of the virus to 4399.
Also, across the nation, only Calabar and Kogi States are yet to record any case of the pandemic since an Italian man in late February, 2020 brought the virus into the country.
However, the NCDC recorded 17 new death to the virus, the highest single day death caused by the pandemic.
READ ALSO: COVID-19: 8 infants, 152 stranded Nigerians depart U.S. for Abuja
According to NCDC, "On the 10th of May 2020, 248 new confirmed cases and 17 deaths were recorded in Nigeria. No new state has reported a case in the last 24 hours.
"Till date, 4399 cases have been confirmed, 778 cases have been discharged and 143 deaths have been recorded in 34 states and the Federal Capital Territory.
"The 248 new cases are reported from 17 states- Lagos(81), Jigawa(35), Borno(26), Kano(26), Bauchi(20),FCT(13), Edo(12), Sokoto(10), Zamfara(7), Kwara(4), Kebbi(4), Gombe(2), Taraba(2), Ogun(2), Ekiti (2), Osun(1), Bayelsa(1)."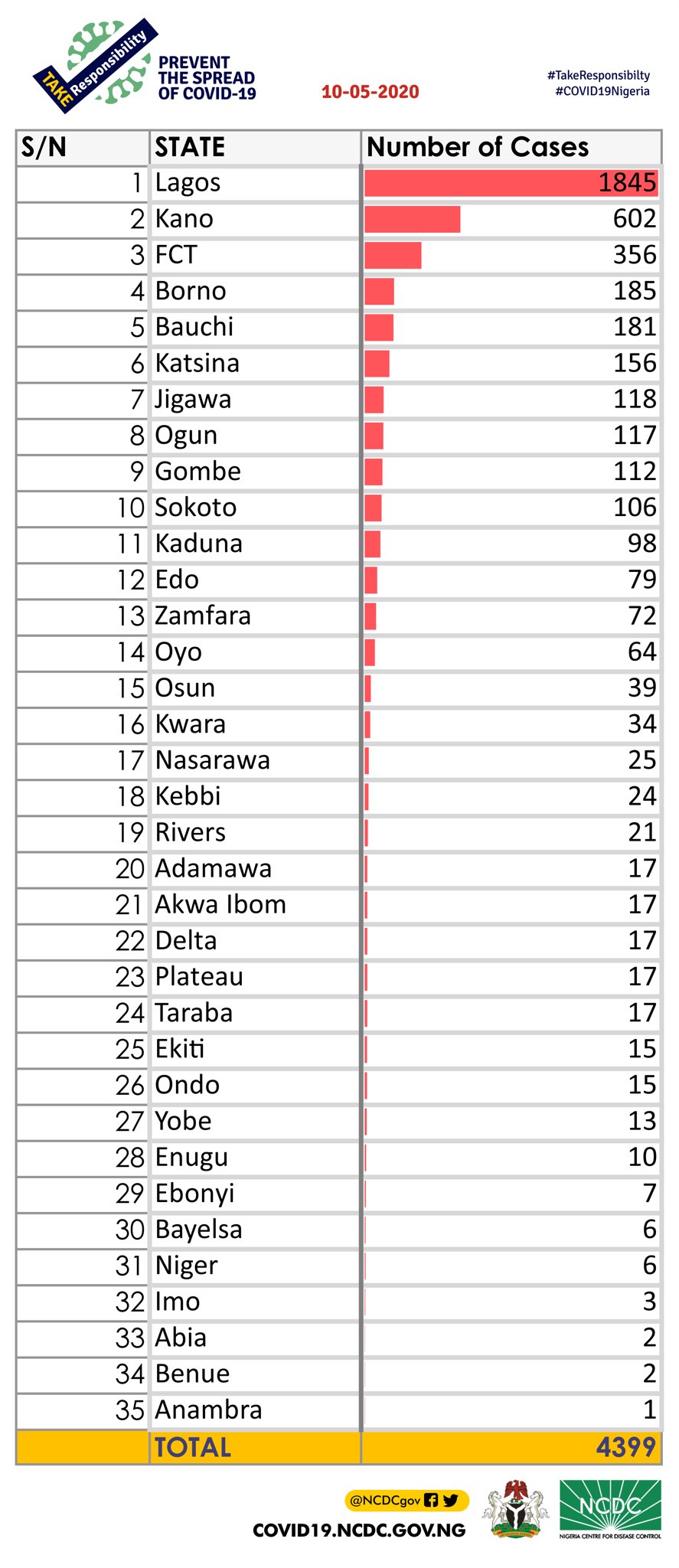 Moreso, the NCDC said: "On the 9th on May, we announced 45 discharged cases and 4 deaths in FCT. Due to system error, 32 discharged cases and 2 deaths were wrongly announced.
"Therefore, FCT recorded 13 discharged cases & 2 deaths on May 9 2020. We apologise to @OfficialFCTA for this error"